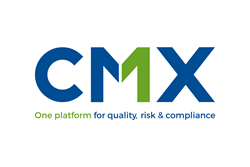 Partnering with a fast-growing fast casual brand like Captain D's is a real win for CMX. The company's commitment to providing its customers with an excellent quality product is admirable and their ability to keep this commitment is key to their success -- Mitch Porche, CEO, CMX
SAN DIEGO (PRWEB) June 09, 2021
CMX, a leading provider of Enterprise Quality Management Software (EQMS) solutions for supply chain management and operational execution, announced today that fast casual seafood chain Captain D's has deployed the CMX1 platform for more streamlined and efficient management of supplier relationships and to ensure the ongoing quality and safety of food products being sourced.
"Over our 50-year history, Captain D's has always been committed to putting our customers first by consistently delivering high quality seafood at affordable prices," said Mark Earnest, VP of Quality Assurance, Captain D's. "This is why our ability to manage our large network of global suppliers is so important to keeping this commitment to our customers. CMX1 provides us with powerful visibility and insight into our supply chain, but more importantly, it delivers the data we need for better decision making and proactive quality management."
Nashville-based Captain D's Quality Assurance team relies on CMX1 to ensure the quality, safety, and compliance of the company's globally-sourced seafood menu items, half of which are proprietary. Offering a comprehensive, automated, single-platform approach to supply chain management, CMX1 automates the management of Captain D's multi-sourced food supply chain, which currently consists of 60 suppliers, to improve the efficiency of:

Supplier management including evaluations, onboarding, and product commercialization approvals
Product specification authoring and approvals including internal collaboration with R&D and suppliers
Managing supplier compliance with regard to FSMA requirements and HACCP controls, process flows, food safety and applicable product certifications
"We're extremely impressed with the easy-to-use, intuitive and logical design of the CMX1 platform," explained Earnest "The ability to automate tasks and workflows allows the Quality Assurance team to focus on building relationships with our suppliers, distributors, and franchisees, and making sure food quality meets Captain D's high standards."
Despite the impact the COVID-19 pandemic had on restaurants across the country, Captain D's thrived in 2020 with record sales growth and has begun this year with double-digit increase in same store sales. With plans to open additional stores this year, Captain D's will look to expand its use of CMX1 and plans to deploy additional platform functionality in the coming months, including:
Ongoing quality monitoring and management through third-party product inspections and release procedures for seafood before being loaded onto ships from processors
The resolution of product quality incidents, and executing product withdrawals and recalls with their restaurants
Enterprise reporting and supplier scorecards
CMX CEO Mitch Porche said, "Partnering with a fast-growing fast casual brand like Captain D's is a real win for CMX. The company's commitment to providing its customers with an excellent quality product is admirable and their ability to keep this commitment is key to their success. We appreciate Captain D's trust in CMX1's proven ability to provide the quality data insights to help them manage their highly complex supply chain and look forward to expanding our relationship even further this year."
ABOUT CAPTAIN D'S
Headquartered in Nashville, Tenn., Captain D's has more than 540 restaurants in 23 states. Captain D's is the nation's leading fast-casual seafood restaurant and was named the #1 seafood chain in the QSR 50, ranked by AUV. Founded in 1969, Captain D's has been offering its customers high-quality seafood at reasonable prices in a welcoming atmosphere for more than 50 years. Captain D's serves a wide variety of seafood that includes freshly prepared entrees and the company's signature hand-battered fish. The restaurants also offer premium-quality, grilled items such as varieties of fish and shrimp, as well as hushpuppies, desserts and freshly brewed, Southern-style sweet tea, a Captain D's favorite. For more information, please visit http://www.captainds.com.
About CMX
Leading brands including Burger King, Arby's, Taco Bell, Sonic Drive-In, Raley's Supermarkets, RaceTrac, and Hasbro trust CMX's cloud-based Enterprise Quality Management Software (EQMS) CMX1 to help them achieve and maintain Operational and Quality Excellence. For over a decade, CMX has led the market with the most comprehensive, user-friendly, cloud-based EQMS platform for food and consumer brands. It's the only enterprise solution to effectively combine supply chain quality and operational excellence into a single, fully configurable operating platform.
For more information, please visit http://www.cmx1.com or call 1-858.997.2140.