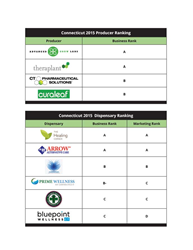 "The Cannabiz Media team is developing the most comprehensive database related to marijuana licensing and the marijuana economy in the United States"
Connecticut (PRWEB) December 09, 2015
Cannabiz Media has released its first state research report, Tracking the Connecticut Licensed Marijuana Economy, 2015 Edition, which provides detailed information on the businesses, professionals, and products that are shaping the marijuana economy. The first report is free to download at Cannabiz.Media.
The Cannabiz Media team researched all licensed producers, dispensaries, testing labs, backers, executives, employees, and products in the Connecticut licensed marijuana economy using the Cannabiz Database, which includes detailed information on over 10,000 licenses across the country.
"The Cannabiz Media team is developing the most comprehensive database related to marijuana licensing and the marijuana economy in the United States," explains Larry Schwartz, Co-founder and President of Cannabiz Media. "The marijuana industry is set for massive growth, and every aspect of the industry is tied directly to licensing. This is the information that journalists, researchers, regulators, and business people need to make decisions and do their jobs every day. The Cannabiz Database is the only resource that enables them to quickly and easily access, analyze, and share reliable and up-to-date information for every state."
2015 Connecticut Marijuana License Rankings
"The goal of our research was to find how licensed businesses, professionals, and products are related in Connecticut," explains Ed Keating, Co-founder and Vice President of Government Relations. "We evaluated all of the data in the Cannabiz Database and applied rankings for each producer and dispensary in the state. For dispensaries, we also developed a marketing rank, since this is such a critical success factor for them."
Key Findings
In the Connecticut marijuana economy, doctors, financial backers, and employees of producers and dispensaries must be licensed. In addition, testing facilities, producers (i.e. manufacturers and growers), dispensaries, and products must be licensed. In total, there are over 800 licenses within the state's marijuana economy:

Producers = 4 licenses
Dispensaries = 6 licenses
Testing Facilities = 3 licenses
Products = 551 licenses
Employees = 255 licenses
"After collecting and analyzing all of the data for the Connecticut marijuana licensing industry, we were able to identify five key findings that stakeholders, including journalists, regulators, researchers, and investors, will find highly insightful," says Keating.
Look out for litigation: There is a lot of money to be made as this industry grows, which has already created problems and lawsuits in Connecticut.
Measure the labor metrics: The average number of products per employee at dispensaries provides a clear indicator of business valuation.
Evaluate the marketing mix: The one dispensary per patient system in Connecticut means producers must aggressively promote their brands and dispensaries must aggressively court consumers in order to stay in business.
Watch for border crossings: Three Connecticut testing facilities have out of state ties. Companies will start crossing borders soon, which will change the marketplace significantly.
Invest in picks and shovels: Companies in the agriculture space have an advantage since marijuana businesses need their supplies to operate. Investing further down the supply chain is a significant opportunity.
Cannabiz Media is developing reports for other states in the marijuana economy in the coming months and after publication, all reports will be updated with the most current information on an ongoing basis. While the Connecticut report is available for free, future state reports and access to the full Cannabiz Database will be available through subscription in 2016. Accredited journalists can access the Cannabiz Database for free at any time by emailing press@cannabiz.media to request login credentials.
About Cannabiz Media
Cannabiz Media has acquired data on thousands of licenses across the country to develop the Cannabiz Database, the most comprehensive U.S. marijuana licensing economy database available. Led by a team of content and data experts with domain expertise in regulatory and corporate information, Cannabiz Media helps journalists, regulators, researchers, business people, investors understand and confidently operate in the evolving marijuana marketplace in the United States. Marijuana industry stakeholders use the Cannabiz Database and state reports to easily access and make sense of the industry so they can make informed business, regulatory, and reporting decisions. For more information, visit http://www.cannabiz.media.