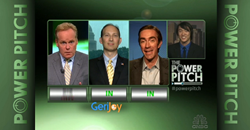 I'm in, I'm absolutely in!
Boston, MA (PRWEB) August 12, 2013
CNBC invited GeriJoy's Founder & CEO, Victor Wang, to pitch his company on the "Power Pitch" segment of CNBC's Power Lunch. On national television, Wang described GeriJoy's virtual pet companion for the elderly, stating, "In addition to the proven mental health benefits of pet therapy, our pets provide intelligent and compassionate conversation, about topics like family photos." He mentioned that the service is available for both consumers and senior care businesses.
Listening to the 60-second pitch were the judges: Tyler Mathisen, co-anchor of Power Lunch; Tevi Troy, former Deputy secretary of the US Department of Health and Human Services; and Stephen Kraus, a partner specializing in healthcare investments with Bessemer Venture Partners.
After a brief question and answer period, the panel of judges voted whether they were "in" or "out" on the company. GeriJoy received a majority vote of "in," with Kraus, the most experienced judge from a business and investing standpoint, declaring, "I'm in, I'm absolutely in!"
CNBC recently partnered with Yahoo! on Power Pitch, and a video of the pitch with exclusive additional content is available on the Yahoo! Finance Power Pitch website.
About GeriJoy
GeriJoy Inc. was founded by MIT researchers Victor Wang and Shuo Deng to improve quality of life for seniors and their families through friendly technology. The GeriJoy Companion, their flagship service, is a virtual pet that is backed by GeriJoy's worldwide team of 24/7 care staff. The staff guide the pet's speech to provide elders with the experience of having an always-available conversational companion that can talk with them about family photos and other information from the Internet. Essentially, the GeriJoy Companion is a talking dog that serves as a helpful family member, not only improving mental health for elders but also providing peace of mind for caregivers. GeriJoy has been recognized by organizations like AARP, TEDMED, and the US Senate as a leading innovator in senior care. The company is based in Cambridge, MA, and is backed by investors such as Blueprint Health and Esther Dyson. To find out more, or to order GeriJoy's service for your own family, please visit http://GeriJoy.com or email info (at) GeriJoy (dot) com.
About Power Pitch
Power Pitch is a weekly series where founders of cutting-edge start-ups have 60 seconds to convince a panel of experts that their business has what it takes to succeed. The series shines a light on a new wave of fearless leaders, bold ideas, fascinating trends, big money, and avant-garde technology.