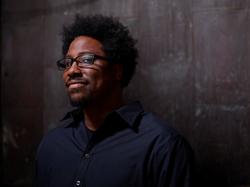 SALT LAKE CITY (PRWEB) December 18, 2018
Salt Lake Community College, in partnership with Westminster College, will host W. Kamau Bell, host of CNN's "United Shades of America."
The event is scheduled for 7-8:30 p.m., Jan. 17 at the Grand Theatre on SLCC's South City Campus, 1575 S. State St., Salt Lake City.
Bell will give a presentation followed by a Q&A. Free tickets to this event can be reserved by clicking here. Doors open at 6 p.m. for general seating.
The Emmy-nominated comic is known for delivering incisive, scathingly funny commentary on modern society. Bell travels the country, offering viewers a look inside the various subcultures of American life. He first captured audiences' attention with his thought-provoking, one-man show, "The W. Kamau Bell Curve: Ending Racism in About an Hour," and later, with his widely praised FX comedy series, "Totally Biased with W. Kamau Bell."
The multitalented entertainer also hosts the podcasts, "Denzel Washington is The Greatest Actor of All Time Period" and "Politically Reactive," as well as the live public radio show, "Kamau Right Now!" Kamau's book, "The Awkward Thoughts of W. Kamau Bell," will be released May 2. His one-man show "Ending Racism in About an Hour" has been praised by audiences and critics from leading outlets, including The Guardian and Time Out New York.
Salt Lake Community College is Utah's only accredited, comprehensive community college. Home to more than 60,000 students each year, the college is Utah's leading provider of workforce development programs and the largest supplier of transfer students to the state's four-year institutions. SLCC is also a top 10 college nationally for total associate degrees awarded and the leading provider of applied technology courses in the Salt Lake area.
The lecture is part of Westminster's B.W. Bastian Diversity Lecture Series. Westminster is a private, independent and comprehensive college in Salt Lake City. Students experience liberal arts blended with professional programs in an atmosphere dedicated to civic engagement. With the goal of enabling its graduates to live vibrant, just and successful lives, Westminster provides transformational learning experiences for both undergraduate and graduate students in a student-centered environment. Faculty focus on teaching, learning and developing distinctive, innovative programs, while students thrive on Westminster's urban Sugar House campus within minutes of the Rocky Mountains. For more information, visit http://www.westminstercollege.edu or follow WestminsterSLC on Twitter, Facebook and Instagram.