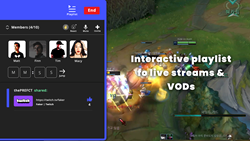 "Social viewing has heretofore been defined and enabled by screen share, which prevents participants from interacting directly with the content," says Darius Fong, Chief Product Officer. "With cnxl's synchronous video sharing features, every participant has autonomy over their content experience whi
IRVINE, Calif. (PRWEB) January 13, 2021
TANDOM released today the public beta of its web app, cnxl (pronounced "console"), allowing everyday gamers and groups to create virtual spaces and invite up to ten friends to watch synchronized content from Twitch, YouTube, Medal TV or share a link of their content on Dropbox.
Friends and fans can voice chat while watching live streaming events such as esports tournaments, gaming clips, user generated content (UGC) plus personal media content via Dropbox within an intimate engagement virtual space. Each participant has universal remote control of content playback with timecode syncing as they create or choose from interactive playlists. Dynamic upvoting drives algorithms to surface the group's most popular playlist content. Proximity voice chat development which is slated for Q2 completion will allow for control of room member interactions and private conversations through spatial audio.
"Social viewing has heretofore been defined and enabled by screen share, which prevents participants from interacting directly with the content," says Darius Fong, Chief Product Officer. "With cnxl's synchronous video sharing features, every participant has autonomy over their content experience which empowers them to interact more seamlessly. Our vision extends beyond consuming content to allow multiple members in the room to stream their game play. Our goal is to create a truly social environment for small groups of people to hang out, watch and play."
Joining the beta is easy and straightforward. Anyone can use any web browser (except for iOS Chrome) https://www.cnxl.app/ and register using Discord. Google and Facebook sign-in will also be available by early February. One can immediately create a private room with a URL link from Twitch, YouTube, Medal TV or Dropbox and invite up to ten friends. Unlike popular video meeting platforms like Zoom designed primarily for presentations, invited friends can also control content playback, jump ahead on VOD or a clip, and add to or upvote content on the playlist. Synchronous video sharing preserves the original content's video and audio formats including resolution limited only by device playback capability. While targeted to everyday gamers, beta users are currently sharing all types of content from supported platforms while simply hanging out.
Founded in 2019 in Irvine, California, TANDOM is a startup building a framework to unify and standardize content interactions across all screens, displays, and devices with the cnxl app as its latest product. For more information, please visit https://www.cnxl.app/ .