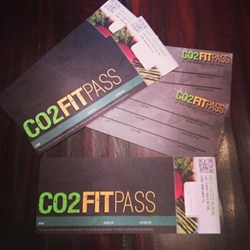 CO2 FitPass helps you find your own FIT in fitness
Richmond, VA (PRWEB) December 19, 2013
CO2Fit announces the launch of the CO2 FitPass that gives locals the ability to test out three fitness programs in the local Richmond area. With the purchase of the pass for $25, fitness clients will be able to test several programs before picking the one that works the best for his or her personal goals.
"There are plenty of deals online that offer great deals on fitness programs. However, the problem is that you cannot test out a class; one usually has to pay for several classes up front. It can take away from the confidence to try something new if you are locked into a 6 week program that you are not even sure is something you would enjoy. The CO2 FitPass allows you to take three trial classes at different local programs in order to find a class that will help you achieve your fitness goals," stated Seo Kelleher, founder and owner of CO2Fit.
Each fitness program available for a trial with the FitPass has been vetted and recommended by CO2Fit. Once a fitness program has been chosen, clients will be able to work with that company directly to purchase a personal program. By being a CO2 FitPass holder, clients will receive 10-20% discount on the regular program cost for signing up.
"The feel or vibe is really important when it comes to someone finding the right "fit" for his or her exercise program. Forcing someone to stick with the program they didn't feel great about just because they already paid for the full program, despite being a great deal, is a sure way to zap the motivation and fun out of getting fit. CO2 FitPass helps you find your own FIT in fitness, " continued Kelleher.
CO2Fit features all CO2Fit partners on their website, allowing the consumer to learn more about each program trial available. For fitness businesses and professionals, the pass is a great way to partner with others and grow together. "Sometimes fitness professionals may get afraid of competition that they do clients disservice. We have to be okay to let our people try different things. As responsible fitness professionals we need to help our community find the right program to help them get healthy and fit. CO2 FitPass allows this kind of partnership and co-promotion," stated Kelleher.
CO2Fit partners will also receive additional marketing outside of the marketing and promotion they do for themselves. Armed with MBA and 15 years of corporate marketing experience from past, Kelleher provides CO2Fit partners with additional marketing and brand awareness utilizing social media, web, digital, and event/charity sponsorship.
"It is my vision for CO2Fit to become not just another fitness program provider but the ultimate resource for the RVA community for fitness & wellness. And I know I can't do it alone – I'm constantly looking for like-minded fitness and wellness professionals who are also passionate about what we do, willing to work hard and pay it forward. Hopefully we could together make RVA area one of the healthiest, happiest cities in the U.S.," commented Kelleher.
CO2 FitPass can be purchased for $25 (delivered free) online at co2fitstore.com - and currently only available in RVA area. Interested in becoming a CO2Fit partner? Contact CO2Fit!
About CO2Fit:
Established in 2012, CO2Fit is located in Richmond Virginia. Founded by Seo Kelleher, CO2Fit aims to help all people reach their health and wellness goals. Through various services and products, we hope to empower members of the Greater Richmond community to take positive action to improve their health and lead happier lives. Whatever challenge you may have, CO2Fit is here to support you every step of the way. It's your challenge, and we do it together.