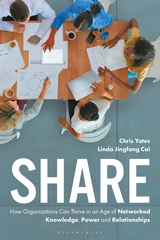 "Share is a call to action, asking people what they can do personally to lead effective change in an era in which the speed of change is unprecedented," said Linda Jingfang Cai, Co-author, Share.
CHICAGO and SEATTLE (PRWEB) March 24, 2020
Co-authors Chris Yates and Linda Jingfang Cai today announced the launch of their new book, Share: How Organizations Can Thrive in an Age of Networked Knowledge, Power and Relationships (Bloomsbury, 2020).
"Share is a call to action, asking people what they can do personally to lead effective change in an era in which the speed of change is unprecedented," said Linda Jingfang Cai, Co-author, Share. "The book addresses a diverse audience, from HR and business leaders to people who are global citizens and parents and want to see a world where there are stronger ethics and deeper empathy. In the book, we pose the question: What is required in order to successfully thrive as we head into an uncertain future?"
Share is about enabling organizations to put empathy and compassion at the heart of how they compete. In the book, the authors take a careful look at the social and environmental context of the world today and the important role that organizations play in shaping society and the lives of individuals. They reflect on current HR and Organizational practices that have been in place since the first industrial revolution, and question their relevance in the 4th Industrial Revolution. Drawing upon a wide array of practical techniques, examples and case studies, Share offers a holistic approach to change, as it presents a new framework through which organizations can reimagine their practices and approaches to boost agility and become a competitive yet cooperative force in the 21st century.
"The global COVID-19 pandemic is impacting us daily from all angles – health, economics, logistics, politics, education, relationships, and more," said Chris Yates, Co-author, Share. "For people working in all industries and sectors, this crisis is creating a huge amount of fear and anxiety. In many ways, it illustrates just how vulnerable we are as human beings, and is causing us to question every assumption we had about the future. With respect to making the big decisions about allowing workers to work remotely, health care benefits, and other forms of economic relief, corporations are stepping up to fulfill a leadership role. For leaders, this necessitates a closer look at the values and underlying purpose of their organizations, and re-examine the way they are making decisions."
Share makes the case that we are entering what has often been described as the fourth industrial revolution. The power and influence that corporate institutions hold over wider society has reached new heights, as global brands and technological monopolies infiltrate every aspect of modern life. Many traditional organizations are unprepared for this new digital world, as they fail to recognize the extent of the changes that will be required to operate and compete.
With these cultural and technological shifts has also come a newfound focus on the distribution of assets and human capital across the world, and in real-time. Share demonstrates the importance of developing new business models based on sharing reciprocity, and cooperation, as the authors challenge corporate executives and institutional leaders to reconsider how their organizations may benefit from engaging more effectively with local communities and wider societies.
To learn more about Share, or to purchase a copy, please visit Amazon.com.
About the Authors
Linda Jingfang Cai is the Global Head of Learning and Talent Development at Aon. She has decades of experience in HR strategy, organisational development and change management through a range of roles in the UK (HSBC and Diageo), US (State Farm) and Asia (Hay Group and McKinsey). Born in Shanghai and a Chinese native, Jingfang completed an MBA at London Business School and is now based in Chicago.
Chris Yates is the General Manager of Learning & Development at Microsoft and is based in Seattle. Previously he was the Chief Learning Officer and Head of People and Organizational Development for Caterpillar Inc. and has served in senior roles at HSBC and American Express. He specializes in organizational design, leadership development and the management of large-scale change initiatives. Along with Pooja Sachdev, he was the co-author of Rewire.