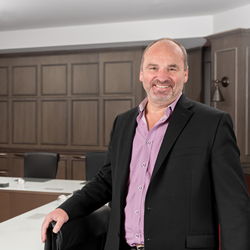 "We're a huge company, but we still operate like we're an underdog, and I still consider myself as an underdog, too," said CES Co-COO John Gray. "I never truly felt like I arrived. I constantly have new goals, and they motivate me to keep going."
DALLAS (PRWEB) November 23, 2021
What started as a driving job for an 18-year-old young man turned into running branches and districts along the east coast, stretching from Philadelphia to the Carolinas. That same young man became the Co-Chief Operating Officer for City Electric Supply back in 2017. That man is John Gray, who just celebrated 35 years with the company. While some could say he has accomplished a lot already, Gray is still ambitious as ever.
In 1986, John Gray kicked off his career with CES Watford and CES Hemel in England when he was only 18 years old. Gray started as a driver, delivering supplies. Soon, he was organizing warehouses and selling supplies door-to-door.
"When we opened CES Hemel, it was a brand-new branch, and we had no customers," Gray said. "I called on everybody — from residential to industrial. I didn't really care if anyone said no to me because I never accepted it."
It didn't start out easy or pretty. Some customers didn't like Gray nor wanted to give him a chance. Some even went as far as throwing him out. But the tenacity to prove himself was a constant fuel to his fire.
"I still remember one customer telling me he didn't like my company, he didn't like me, and he didn't want me to come back again," Gray laughed. "I went, 'Oh, at least you know us then!'"
But, when given a single opportunity, he made the most out of it. With another supplier making a mistake, Gray was given the chance to make the corrections from people who had initially rejected him. Pretty soon, those who took a chance on Gray were becoming the most loyal customers.
"He gave us one chance on a list of material that was all messed up and needed everything to be labeled," said Gray. "Well, we delivered it, and he became one of my biggest customers."
Gray was soon earning praises from even the toughest of critics. Chances given like that one soon led to a steady stream of accomplishments, including earning his first branch manager position for CES Harrow in Northwest London. At the time, Gray was only 24 years old. Soon after that, he turned it into one of the most profitable branches in the district.
While a decade of hard work came and passed, in 1997, Gray was given a chance to move from England to the United States. Charlotte, North Carolina, to be exact.
"There was a huge culture shock moving to Charlotte," Gray explained. "But I knew it was time to move on from what I was doing. It was new and good for me and my wife in lots of ways. Of course, it was challenging, but I knew the opportunity was there."
As it turns out, there was plenty of opportunities, and Gray seized them without question. What came next for Gray and CES was something no one expected.
"Nobody in their wildest dreams could imagine it'd turn into what it is today," he said. "You just thought, 'I'll come over here, do a job, do the best I can, and open a few branches.'"
In the U.S., CES had a strong presence in Florida; and was beginning to expand up the coast into the Carolinas. Over the course of 20 years, Gray oversaw the growth of CES up the east coast, with branches opening in North Carolina all the way up to Boston. Not only that, but he oversaw branch openings in Tennessee, Kansas, and Oklahoma, just to name a few.
More recently, he's overseen branch openings in Washington and Philadelphia, with CES opening the first branch location on the island of Puerto Rico.
"My geography was all over the place, but I was fortunate to have worked with a lot of good people. When I couldn't be somewhere, a lot of those guys really ran that business. That's probably why it was so good — because I wasn't involved in it," he laughed.
When asked what he's most proud of, however, the answer had nothing to do with the number of branches he's helped open.
"My proudest moments are when I look back and see the people I brought through," he said. "When I see them grow as individuals and see what they achieve, it's nice to be a part of that success. You achieve through them achieving."
CES prides itself on keeping stellar customer service at the center of every branch, going above and beyond to help customers with anything big or small. Surrounding yourself with good, hard-working people is what Gray believes is the secret to success.
"Don't be intimidated by good people," he said. "Have a history of surrounding yourself with good people because good people will not sit still. Good people will always find a way."
Even though he's accomplished a lot in his time with CES, Gray wants to see that growth continue, setting a high expectation for the years to come.
"We're a huge company, but we still operate like we're an underdog, and I still consider myself as an underdog, too," Gray said. "I never truly felt like I arrived. I constantly have new goals, and they motivate me to keep going."
"I'd certainly like for CES to open 30 to 40 new branches every year," he said. "We want to continue to grow our network, and I believe we can do that."
CES is grateful that John Gray found his way to City Electric Supply 35 years ago. The company is proud to celebrate his accomplishments and can't wait to commemorate more milestones together.
About City Electric Supply (CES) is a family-owned electrical wholesale distributor headquartered in Dallas, Texas. The company was founded in 1951 by Tom Mackie in the United Kingdom and expanded to the United States in 1983. Today, CES employs more than 3,000 people in over 500 branches across the U.S.
CES is dedicated to providing personalized service and support for customers in the residential, commercial, and industrial marketplace. While CES is a large company, it prides itself in keeping its founding principle of empowering people to make local business decisions by providing customers tailored services for all their electric supply needs.
###
Media Contact:
Emily Davis
Public Relations Specialist
City Electric Supply
Emily.Davis@cityelectricsupply.com