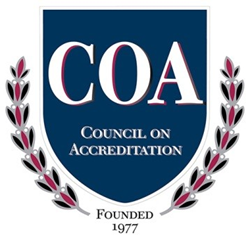 Our hope is that our resource center will offer guidance to agencies to support their readiness for FFPSA
NEW YORK (PRWEB) March 28, 2019
Today, the Council on Accreditation (COA), a nonprofit accreditor of human services, announces the launch of the COA FFPSA Resource Center, a new tool for those working to implement the Family First Prevention Services Act (FFPSA). The passage of the FFPSA in February 2018 created a dynamic shift in the field's focus toward implementation planning, evidence-based practice development, and the impact the legislation will have on families and youth nation-wide. As COA strives to support organizations in this shift, the COA FFPSA Resource Center was created to assist those who are looking for information and planning for accreditation.
"The Family First Prevention Services Act is the largest child welfare system change to take place in this country in over a decade, offering an exciting opportunity to scale best practices and improve outcomes for families and youth," said Jody Levison-Johnson, president and CEO of COA. "We realize that change of this magnitude also means service providers must address new requirements, while continuing the vital role of serving youth in their care. We at COA want to use our national reach to support agencies in that effort."
In conversations with providers, advocacy groups, and state officials, it became apparent that information broadcast and resource flow has become a challenge across the field. As new information and resources regarding FFPSA are being produced regularly, agency staff are spending their limited time seeking out these tools. With the volume of information available and time it takes to sort through it, COA wanted to create a one-stop shop to direct users to resources and information on FFPSA and the accreditation process. The COA FFPSA Resource Center includes information and links to upcoming trainings and events, tools to assist agencies in choosing an accreditor, federal guidance, national and state news, and information to assist agencies already engaged in the accreditation process.
In addition to the launch of the COA FFPSA Resource Center, COA is offering a promotion for organizations pursuing accreditation for the first time as a result of the FFPSA. Organizations that apply to COA by April 12, 2019 and execute their accreditation agreement by May 31, 2019 will have their application fee refunded. For more information on this promotion and the application process, please contact Zoë Hutchinson at (zhutchinson@coanet.org) or schedule a call with Zoë here.
"Our hope is that our resource center will offer guidance to agencies to support their readiness for FFPSA" said Levison-Johnson. Users of the resource center are welcome and encouraged to reach out to (publicpolicy@coanet.org) with questions and content suggestions.
Visit the COA FFPSA Resource Center at http://www.coafamilyfirst.org and to learn more about COA, please visit coanet.org.
ABOUT COA
Founded in 1977, COA is a nonprofit accrediting body of over 2,200 behavioral health and social service organizations and programs in the US and Canada. In partnership with the human services field, COA researches and publishes best practice standards and engages organizations and programs in a comprehensive review with the goal of strengthening and improving their capacity, administration and management functions and service delivery. Standards are available free and online at http://www.coanet.org. Currently, COA is recognized in over three hundred instances in 50 states, the District of Columbia, Canada, and China. This number continues to grow based on state interest in the use of accreditation as regulatory tool.