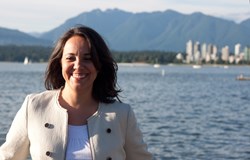 I felt such a kindred sense of community for women looking to develop professionally and support each other in that growth journey. In many ways, that initial networking lunch confirmed my need to seek more mentors and community for my development
Vancouver, BC (PRWEB) January 22, 2014
Looking for ways to advance your career, develop professional relationships and work as a mentor or public speaker? Jessica Manca, mentor for the Women in Leadership Foundation, encourages women to add resume-building skills in a safe, supportive environment by getting involved with local non-profits. With opportunities for professional networking, mentorship and public speaking leadership, volunteers can find the perfect synergy of achieving professional goals while helping an organization achieve its vision. Through her work with the Women in Leadership Foundation, Manca has joined the Vancouver Chapter's 2014 executive team.
Manca says, "Last year, I attended a Women in Leadership luncheon with a panel of local leaders sharing their best advice. The atmosphere, the event, and the women I met were unique. I felt such a kindred sense of community with women looking to develop professionally and support each other in that journey. In many ways, that initial networking lunch confirmed my need to seek more mentors and contribute to a new community as part of my growth and development."
Manca will be engaged in the delivery of the Vancouver chapter's 2014 objectives, working as an ambassador and supporting the community of volunteers, sponsors, members, and extended networks. The role compliments Manca's career empowering women as their thinking partner and coach to advance their careers.
Professional development areas such as and strengthening leadership skills, gaining confidence, and increasing self-awareness are areas of practice for Manca when coaching professional women. She founded Managing Mindspaces to empower women to live the life they want. Recognizing the common theme of professionals losing themselves in their careers and again when they start a family, Manca wrote, "Finding Passion, A Self-Discovery Approach for Navigating Career Crossroads," and provides inspiration, tools, and sensible strategies for those balancing work, family, life transitions, and career advancement challenges. The book recounts Manca's journey and ultimate decision to leave a well-paying career for more fulfilling work that aligned to her long-term goals and lifestyle.
To subscribe to "Live the Life You Want" with more career tips on realigning to what you really want in life, visit http://www.managingmindspaces.com/newsletter.
About Women in Leadership Foundation
Founded in 2001, Women in Leadership Foundation (WIL) is a national, non-profit organization dedicated to advancing women in leadership roles. WIL delivers innovative programming to help thousands of women across Canada to develop their leadership skills. Launched in Toronto, Ottawa, Calgary, and Vancouver, WIL organizes a nation-wide mentorship program, Aboriginal Women's Leadership Program and a series of forums showcasing women role models. WIL is a national, non-profit organization with Charity Status (Registered Charitable No. 86600 3536 RR0001).
About Jessica Manca
Jessica Manca is a certified coach, author, entrepreneur and former management consultant. She founded Managing Mindspaces, a professional coaching firm, providing sensible career and life coaching services to professionals making life-changing decisions. Manca works with clients individually to reduce the fear of unknown, unpack feelings of overwhelm, and develop strategies to bring the ultimate future forward. She also offers intimate and interactive public speaking and facilitation. Manca holds an Associate Certified Coach (ACC) by the International Coach Federation and also is a Certified Executive Coach (CEC). She serves clients across the United States and Canada. Manca can be found online at http://www.managingmindspaces.com/