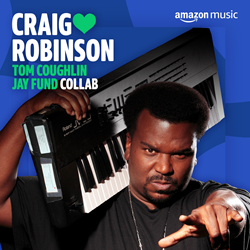 "I am so grateful that so many celebrities and athletes took time to create these playlists with our cancer patients and cancer survivors," said Tom Coughlin, 2X Super Bowl winning coach and co-founder of the Tom Coughlin Jay Fund Foundation. "No one fights cancer alone; it takes a team, and I want
NEW YORK (PRWEB) September 03, 2021
The Tom Coughlin Jay Fund Foundation and childhood cancer patients in New York, New Jersey, and Jacksonville, FL have teamed up with Amazon Music to create celebrity and athlete-curated playlists to bring awareness to the emotional and psychological impact a pediatric cancer diagnosis can have on a child and family. TODAY with Hoda & Jenna co-hosts Hoda Kotb and Jenna Bush Hager, 2X U.S. Women's World Cup winning Coach Jill Ellis, Brooklyn Nine-Nine's Craig Robinson, GRAMMY-Award winning duo The Chainsmokers, NC Courage and U.S. Women's National Team champion Jessica McDonald, New York Football Giants Levine Toilolo, Mark Herzlich, and Kevin Boothe were paired with pediatric cancer patients, survivors, and parents to create inspirational, empowering, and healing playlists, underscoring the power of music.
Throughout the month of September, music lovers and pediatric cancer supporters and advocates can find a variety of playlists on Amazon Music Unlimited to feel the groovy vibes of Craig Robinson and cancer survivor Lexy's "Cra-Lexus"; be uplifted by Talen and Mark Herzlich's "Healing Praise"; join The Chainsmokers and the Berglunds in remembering and celebrating loved ones lost with their tribute playlist "Jake's Joy"; get ready to dance to the "Princess Courage" playlist created by cancer patient Camilla, Hoda Kotb, and Jenna Bush Hager; feel the power of "Soul Connections" created by cancer patient Shariah and Jill Ellis; get pumped up with cancer patient Leon and Levine Toilolo's "Pre-game workout"; have some "Sunny Days" with Meleah and Kevin Boothe; and sing and dance along in the car with Sa'Nyla and Jessica McDonald's "Courage Throwback."
"I am so grateful that so many celebrities and athletes took time to create these playlists with our cancer patients and cancer survivors," said Tom Coughlin, 2X Super Bowl winning coach and co-founder of the Tom Coughlin Jay Fund Foundation. "No one fights cancer alone; it takes a team, and I want to thank Amazon Music and all of those involved for being a part of ours."
Each year, approximately 15,000 people under the age of 20 are diagnosed with some form of cancer, according to the Centers for Disease Control and Prevention (CDC) – that's 43 children diagnosed with cancer each day. Cancer does not discriminate. Its impact has been felt in every community across the U.S. leaving a devastating emotional and financial toll on the families tackling the disease.
Music connects us in a special way. Research has shown that music can reduce stress and anxiety while altering and shifting our moods in a positive manner. And music therapy has long been used in helping pediatric cancer patients reduce pain and anxiety and improve their emotional health and wellbeing.
"Music helps patients bond socially, emotionally, and with other patients," said Lee Russeth, MS, CCLS, Senior Child Life Specialist at the Joseph M. Sanzari Children's Hospital at Hackensack University Medical Center. "In an environment where patients can often have few decisions, with music they can choose which instrument to play, sing, dance, or just sit back and listen. They are free to express their emotions, while alleviating their pain. And, it's so important to remember, music is also for fun! It's the normalizing factor that helps them get through their treatment."
The Tom Coughlin Jay Fund Foundation has supported more than 5,000 families through their cancer journeys providing more than $15 million in financial assistance to families in northeast Florida and the New York/New Jersey metropolitan area.
For more information or to learn more about the Tom Coughlin Jay Fund Foundation visit tcjayfund.org and follow on Facebook, Twitter and Instagram.
About The Tom Coughlin Jay Fund Foundation
The Tom Coughlin Jay Fund Foundation helps keep families in their homes, food on the table, the lights on, and so much more. When a family is tackling childhood cancer, the Jay Fund provides comprehensive financial, emotional, and practical support. A nonprofit organization founded by 2X Super Bowl-winning Head Coach Tom Coughlin, the foundation was established in 1996 in memory and spirit of the late Boston College football player, Jay McGillis, who lost his battle with leukemia. From diagnosis to recovery and beyond, the Jay Fund is part of the team, allowing parents to focus solely on their child's well-being. The mission is to BE THERE for parents facing the unthinkable so they can BE THERE for their child. To date, the foundation has provided over $15 million in financial assistance and helped over 5,000 families.