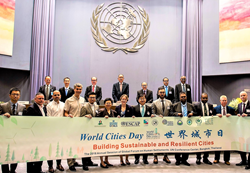 "We were honored and humbled to have received this prestigious award by the Global Forum. Coast builds community by connecting people with a mobility solution that put pedestrians first."-David M. Hickey, Chairman and CEO of Coast
PASADENA, Calif. (PRWEB) November 08, 2018
Coast Autonomous, a self-driving vehicle technology company, announced today that the Global Forum on Human Settlements, with support from the United Nations Economic and Social Commission for Asia and the Pacific and the Global One Belt One Road Association, presented Coast with its Global Model of Green Mobility Award for 2018. The award was presented to Coast in connection with the 2018 Annual Session of Global Forum on Human Settlements convened at the United Nations Conference Center, Bangkok, Thailand.
The Annual Session brought together mayors from cities across the world, including the mayors of Santa Monica, California, Quezon City in the Philippines, and Male in the Maldives, each of whom discussed the challenges facing their respective cities and their innovative approaches to meet those challenges and improve the quality of life for their citizens. The Session featured non-governmental organizations such as the United Nations Environment Programme Finance Initiative (whose representative gave a presentation on project finance for public-private partnerships) and the Habitat for Humanity (whose representative discussed sustainable urban infrastructure). The Session also included representatives from the private sector to discuss smart cities technologies, including autonomous rapid transit and the use of blockchain to improve the workability, livability, and sustainability of urban environments.
"We were honored and humbled to have received this prestigious award by the Global Forum," said David M. Hickey, Chairman and CEO of Coast. "Coast builds community by connecting people with a mobility solution that put pedestrians first. Our self-driving vehicles are smarter, safer, and more convenient than existing modes of transportation at considerably lower costs. We would like to thank the Global Forum and its partners, the Thai Royal Family, the Government of Thailand and Thai people for their warmth and generosity."
About Coast Autonomous:
Coast Autonomous is a software and technology company focused on delivering AV solutions for low-speed environments. At the center of one of the fastest and most profound disruptions to impact the transportation and logistics industries, Coast has developed a complete suite of Autonomous Vehicle (AV) software that includes mapping & localization, robotics & artificial intelligence (AI), fleet management and supervision systems. Partnering with proven manufacturers, Coast can provide a variety of vehicles equipped with its best-in-class software to offer Transportation-as-a-Service (TaaS) solutions to cities, theme parks, campuses, airports and other low-speed environments. Based in Pasadena, California, Coast's team is recognized for its experience and expertise in all aspects of implementing and operating AV fleets while prioritizing safety and the user experience. To learn how Coast Autonomous can help you power autonomous transportation in your environment, please visit http://www.CoastAutonomous.com.