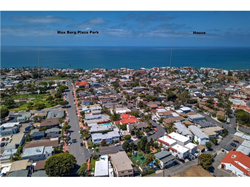 These acquisitions further expand our portfolio of multi-family properties located in coastal southern Orange County cities
SAN CLEMENTE, Calif. (PRWEB) February 05, 2019
Coast & City LLC recently announced the acquisition of two properties in the city of San Clemente, California. The new properties, located at 104 and 106 Avenida Pelayo, fit into the long-term investment strategy of the company and its founding partner Majd Aboul Hosn. "These acquisitions further expand our portfolio of multi-family properties located in coastal southern Orange County cities," explains Majd Aboul Hosn. This most recent acquisition consists of a duplex and the neighboring vacant lot which is also zoned for multi-family development. Although the company is not bullish on construction or development, Hosn explains that this was a rare opportunity to acquire such a lot in a coastal city.
Since the company's inception in 2016, Coast & City LLC has focused primarily on acquiring multi-family properties in coastal Orange County. Majd Aboul Hosn gives some insight into the company strategy when he says "the flexibility of being able to rent out the units and hedge vacancies with multiple units while still reaping the strong appreciation historically associated with these areas is a great position to be in."
Coastal Orange County has attracted investors to its shores for decades now. The sandy beaches and great weather attract tourists, investors, and homeowners all seeking to enjoy a piece of the quintessential California lifestyle. That demand has historically driven up prices of homes and rentals. For example, according to Trulia.com, the median sale price in Dana Point has increased 10.9% year-on-year for the months of June-August 2018.
Coast & City LLC sees Dana Point as a strong market which is only beginning to realize its true value. Dana Point will soon be welcoming the commencement of construction on the long-awaited $330 million Dana Point Harbor Revitalization project.
Whether it be Dana Point, San Clemente, Laguna Beach, or Newport Beach, Coast & City LLC sees hard to match long-term value in these cities. "There is only a finite number of land or investment opportunities in these cities, and any investor with a vision knows it would be wise to get in while prices are still within reach," explains Hosn.
Coast & City LLC is excited about the opportunity to own property in San Clemente, California. Looking to the future, Majd Aboul Hosn sees San Clemente as an investment hub and Avenida Pelayo will be where it all started. The company plans to become a valuable member of the community. Whether through donations or the support of a local charity, Coast & City LLC takes pride in giving back to the local community.