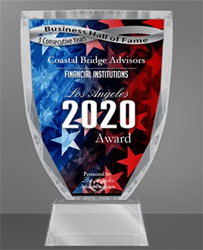 "We take great pride in the work we do for our clients and are honored to be selected for this award for the third year in a row."
LOS ANGELES (PRWEB) July 07, 2020
Coastal Bridge Advisors has been selected for the 2020 Los Angeles Award in the Financial Institutions category by the Los Angeles Award Program. This marks the third consecutive year that Coastal Bridge Advisors has won the Los Angeles Award in this category and, as a result, has qualified the firm for entry into the Los Angeles Award Program Business Hall of Fame.
"The roots of our business in Los Angeles go back thirty years, and the last five our team has been working in our current Century City office, where we continue to support our wonderful West Coast clientele. We take great pride in the work we do for our clients and are honored to be selected for this award for the third year in a row," says Founding Partner of Coastal Bridge Advisors, Kevin Burns.
Each year, the Los Angeles Award Program identifies companies that have achieved exceptional marketing success in their local community and business category. These are local companies that enhance the positive image of small business through service to their customers and our community. These exceptional companies help make the Los Angeles area a great place to live, work and play.
Various sources of information were gathered and analyzed to choose the winners in each category. The 2020 Los Angeles Award Program focuses on quality, not quantity. Winners are determined based on the information gathered both internally by the Los Angeles Award Program and data provided by third parties.
About Los Angeles Award Program:
The Los Angeles Award Program is an annual awards program honoring the achievements and accomplishments of local businesses throughout the Los Angeles area. Recognition is given to those companies that have shown the ability to use their best practices and implemented programs to generate competitive advantages and long-term value.
The Los Angeles Award Program was established to recognize the best of local businesses in our community. Our organization works exclusively with local business owners, trade groups, professional associations and other business advertising and marketing groups. Our mission is to recognize the small business community's contributions to the U.S. economy.
SOURCE: Los Angeles Award Program
CONTACT:
Los Angeles Award Program
Email: PublicRelations@ranking-2020.com
URL: http://www.ranking-2020.com
About Coastal Bridge Advisors:
Coastal Bridge Advisors is an independent Registered Investment Adviser founded in 2008 with the aim to provide better client service, personalized and sophisticated guidance, as well as coordinated advice delivery. We strive to "Uncomplicate It" for clients, which means explaining even the most complex concepts in a way that delivers the simple clarity they deserve. We're focused on helping our clients more clearly plan for retirement, more simply transfer wealth to future generations, and more effortlessly enjoy the lifestyle they want today.
Important Disclosures:
Coastal Bridge Advisors was previously awarded the Los Angeles Award for Financial Institutions in 2018 and 2019. The same criteria was used to determine the award recipients in each of these prior years. Please note that Coastal Bridge Advisors receipt of the awards mentioned herein may not be representative of any one client's experience because the award reflects an average of all, or a sample of all, of the experiences of the firm's clients and that Coastal Bridge Advisors' receipt of the award is not indicative of the firm's future performance.
More information about the firm can be found at http://www.coastalbridgeadvisors.com
Contact: Christine Smith at 203-742-5957 or csmith@coastalbridgeadvisors.com