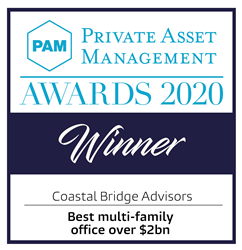 This award highlights our collective efforts as a team to go above and beyond for our clients.
WESTPORT, Conn. (PRWEB) February 25, 2020
Coastal Bridge Advisors has been named the winner of the 2020 "Best Multi-Family Office Over $2B" by Private Asset Management (PAM), a premier industry organization focused on wealth management and family office services.
"We are honored that PAM has again recognized Coastal Bridge Advisors as among the best in the business," says President of Coastal Bridge Advisors, Jeffrey Fuhrman. "This award highlights our collective efforts as a team to go above and beyond for our clients. Our commitment to providing extraordinary service to each of the client families we work with has contributed to making us such a regular presence on this list of top firms."
PAM presented the award to Coastal Bridge Advisors at its annual awards dinner in New York City. Coastal Bridge Advisors was also named as a finalist for the award for "Best Private Wealth Manager – Client Service – Over $2B. This is the fourth time that Coastal Bridge Advisors has been recognized by PAM. In 2018 and 2017, Coastal Bridge Advisors won the award for Best Private Wealth Manager Under $5B and in 2014 was the winner of the Best Multi Family Office Overall.
About the PAM Awards and Entry Process:
US private asset management industry's PAM Awards provide a platform to showcase the achievements of top investment professionals, wealth advisors, legal firms, consultants, and other key service providers operating within the sector.
The 2020 Award for Best Multi Family Office was determined based on PAM firms completing a category specific submission addressing the criteria highlighted by the Panel which included an in-depth questionnaire of approximately 40 questions across several subject areas, encapsulating: group structure and personnel; investment management process; pooled funds/unlisted securities; regulation and investor protection; and fees, charges and interest.
The 2018 and 2017 Awards for Best Private Wealth Manager Under $5B were determined based on financial progress (performance track-record over the course of the last twelve months); growth (client numbers, internal hires and geographic expansion); client satisfaction (evidence of client satisfaction, including evidence of exceptional service and direct client statements); and product Innovation (details of new services and products launched over the prior year).
The 2014 Award for Best Multi-Family Office Overall was determined based on commercial Success and business growth; positive client feedback via submitted testimonials; description of new product, its genesis and how it was created; and demonstration of product Innovation.
PAM does not release statistics on the number of firms competing.
Please note that Coastal Bridge Advisors receipt of the award may not be representative of any one client's experience because the award reflects an average of all, or a sample of all, of the experiences of the firm's clients and that Coastal Bridge Advisors' receipt of the award is not indicative of the firm's future performance.
About Coastal Bridge Advisors:
Coastal Bridge Advisors is an independent Registered Investment Adviser founded in 2008 with the aim to provide better client service, personalized and sophisticated guidance, as well as coordinated advice delivery. We strive to "Uncomplicate It" for clients, which means explaining even the most complex concepts in a way that delivers the simple clarity they deserve. We're focused on helping our clients more clearly plan for retirement, more simply transfer wealth to future generations, and more effortlessly enjoy the lifestyle they want today.