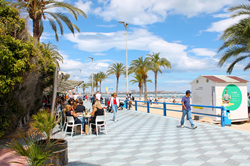 In the right European destinations, the culture is rich, the sun is out, and you can retire comfortably for far less than a similar lifestyle would cost you in the U.S.
BALTIMORE (PRWEB) November 23, 2021
"Retiring by the coast is a dream lots of folks share, but most assume it's outside their reach. Retiring by the coast in Europe?
'That's for the jet-set,' is what you're likely thinking," says Jennifer Stevens, Executive Editor, International Living.
"But when Americans on a limited budget compare the quality of life they're able to enjoy in the States to what their dollars buy in Europe, it's often a pleasant surprise.
"In the right European destinations—and we've pinpointed five good-value spots by the coast—the culture is rich, the sun is out, and you can retire comfortably for far less than a similar lifestyle would cost you in the U.S.
"Plus you also benefit from those less tangible pluses—like a slower pace of life and cultures that put a premium on good food and drink and on relationships with family and friends."
International Living has identified five coastal places where the water is right beside you and a relaxed Old World lifestyle is surprisingly affordable.
Bari is a bustling central city and also the capital of the Bari province in southern Italy's Puglia region, on the heel of the Adriatic Sea coastline.
Appealing to tourists and retirees alike, Bari is home to numerous shops (local mom-and-pops as well as high-end designer goods), museums, theaters, universities, a train, and bus hub from which to explore points north, south, and inland, an airport, and a cruise terminal.
The climate is the typical Mediterranean with four distinct seasons. Winter is seldom cold, more chilly and rainy. Spring and autumn are perfectly delightful shirt sleeve weather with an abundance of blooming plants or harvests of olives, grapes, and chestnuts. Summer can be quite hot, exacerbated by high humidity because of its perch on the sea.
But it also brings a profusion of organically grown produce, flavorful, colorful, and economical. And if folks have ever pictured themselves sipping a glass of vino in Italy, this is the most affordable, and arguably the tastiest, province in which to actualize the dream!
How much: A couple can live well here on a monthly budget of $1,494, or $17, 928 a year.
Alicante is a port city on Spain's south-eastern Costa Blanca. Home to about 330,000 people, it offers an unbeatable combination of comfortable city living and relaxed country friendliness.
Alicante has two distinct rhythms. In the summer, the city transforms into a tourist's playground where gelato shops spring up on almost every street, vendors walk the beaches selling ice-cold cans of beer, and a myriad of languages bubbles through the streets.
Things slow down as the weather grows colder and the tourists head home. Yet winter is entirely pleasant as the temperature rarely drops below 50 F. Most days, the sky remains a crystal clear blue and the wide beaches become yours alone to wander and explore.
With an international airport and train station offering high-speed connections to Madrid and beyond, Alicante is a great hub from which to experience Europe. And living here is affordable.
How much: A couple can live well in Alicante on $1,985 per month, or $ 23,820 a year.
Lagos is a popular coastal town in southern Portugal's Algarve region. It is located on the Bensafrim River and offers not only some fine beaches (especially Praia Dona Ana, voted the second most beautiful beach in Portugal) and watersports, but also a yacht-dotted marina and a host of restaurants and bars supporting an active night scene. Everything from quintessential fast-food to gourmet is represented along the "marginal," the name given to the road/walkway along a coastal area. There is ample shopping and even a few stores specializing in imported foods.
The center of the marina area features a merry-go-round for the kids and cafés, bars, and an Irish pub or two for the adults. A diverse collection of eclectic shops mixes well with the obligatory beach fare. In short, it is a sweet combination of ordinary residential living and resort offerings.
How much: On a monthly budget of $2,080, or $24,960 a year, a couple can live a good life here.
Given its ideal placement along the French Riviera, the coastal city of Toulon in southeastern France provides an idyllic lifestyle for residents and short-term visitors. Away from the hustle-and-bustle of big "resort" towns like Nice, Cannes, and St. Tropez, unassuming Toulon lies a bit off the radar and residents wouldn't have it any other way.
Known as one of the top naval ports in France, it can be easy to dismiss the city as a military town, but that would be missing out on this affordable city in the fabled South of France. For those who live and work in the city, the secret is already out. They enjoy an easy, laidback lifestyle for which the region is famous.
Toulon is made of South of France romance—whether savoring local cuisine by the Mediterranean Sea, or strolling cobbled streets at dusk, this is a place that always seduces the senses.
How much: A couple can live well here on a monthly budget of $1,986 to $2,228, or $23,832 to $26,736 a year.
Málaga is clean and bright, with a pedestrian-only city center and a revamped harbor area that is a joy to stroll. The city is brimming with museums, great dining, and plenty of shopping to suit all tastes and budgets.
There is daily sunshine, miles of seaside, balmy winter temperatures (days average 63 F in January), and Mediterranean sea breezes which cool the hot summer days. Málaga is cheerful and vibrant, steeped in its trademark Andalusian charm. Best of all, it remains a very Spanish city, even in the prime tourist areas.
It takes just minutes to walk from Málaga's historic center to reach the port area where you'll find quays for commerce, cruise ships, yachts, and pleasure boats. Here you can also get ferries to Melilla, the Spanish-owned enclave in Morocco, as the coast of North Africa is just 80 miles away.
For folks who enjoy big-city life with laidback charm and a side of seashore, Málaga is a great option. And because of the extensive tourism, expats can even get by in English.
How much: A couple can live well on $2,304 a month, or $27,648 a year.
Editor's Note: Members of the media have permission to republish the article linked above once credit is given to Internationalliving.com
Further information, as well as interviews with expert authors for radio, TV or print, is available on request. Photos are also available.
For information about InternationalLiving.com content republishing, source material or to book an interview with one of our experts, contact PR Managing Editor, Marita Kelly, +001 667 312 3532, mkelly@internationalliving.com
Instagram: https://www.instagram.com/internationalliving/
Twitter: @inliving
Facebook: https://www.facebook.com/International.Living/
About International Living
Since 1979, InternationalLiving.com has been the leading authority for anyone looking for global retirement or relocation opportunities. Through its monthly magazine and related e-letters, extensive website, podcasts, online bookstore, and events held around the world, InternationalLiving.com provides information and services to help its readers live better, travel farther, have more fun, save more money, and find better business opportunities when they expand their world beyond their own shores. InternationalLiving.com has more than 200 contributors traveling the globe, investigating the best opportunities for travel, retirement, real estate, and investment.