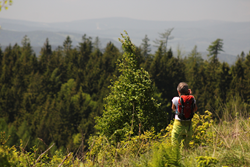 Nature Knapsack has activities for exploring the 1,000 acre site which groups who come to the site can utilize to enhance their programs.
(PRWEB) January 30, 2019
Camp Cazadero, a camp and retreat center nestled in the coastal redwoods and located in Cazadero, California, has announced a new "Nature Knapsack" program for groups of all ages to be released Spring 2019.
With help from the Web of Life Field School (WOLF School) naturalists, nature exploration activities specific to Camp Cazadero are put into a small knapsack for groups to use while exploring trails, forest, and fauna. Nature Knapsack has activities for exploring the 1,000 acre site which groups who come to the site can utilize to enhance their programs. The activities and nature trails are self-guided.
Our Nature Knapsack is designed to get children, youth, and adults outside and bring them closer to nature, while developing their observational skills. This discovery pack includes a guide for tree and animal identification and other aspects unique to the redwood forest.
The Child Mind Institute cites Richard Louv, author of the book Last Child in the Woods: Saving Our Children From Nature-Deficit Disorder identifies 7 positive growth factors when kids get outside:
1) It builds confidence. The way that kids play in nature has a lot less structure than most types of indoor play. There are infinite ways to interact with outdoor environments, from the backyard to the park to the local hiking trail or lake, and letting your child choose how he treats nature means he has the power to control his own actions.
2) It promotes creativity and imagination. This unstructured style of play also allows kids to interact meaningfully with their surroundings. They can think more freely, design their own activities, and approach the world in inventive ways.
3) It teaches responsibility. Living things die if mistreated or not taken care of properly, and entrusting a child to take care of the living parts of their environment means they'll learn what happens when they forget to water a plant, or pull a flower out by its roots.
4) It provides different stimulation. Nature may seem less stimulating than your son's violent video game, but in reality, it activates more senses—you can see, hear, smell, and touch outdoor environments.
5) It gets kids moving. Most ways of interacting with nature involve more exercise than sitting on the couch. Not only is exercise good for kids' bodies, but it seems to make them more focused and calm.
6) It makes them think. Louv says that nature creates a unique sense of wonder for kids that no other environment can provide. The phenomena that occur naturally in backyards and parks everyday make kids ask questions about the earth and the life that it supports.
7) Finally, It reduces stress and fatigue. In natural environments, we practice an effortless type of attention known as soft fascination that creates feelings of pleasure, not fatigue.
While this Nature Knapsack program is geared toward children youth, adult groups will enjoy the experience of nature-based activities as well. For child and youth groups, Camp Cazadero is offering a discounted outdoor-education lodging and meal rate for Knapsack program participants.
Camp Cazadero is managed and operated by United Camps, Conferences & Retreats (UCCR), a non-profit camp and retreat management cooperative. The Web of Life Field School (WOLF School) is an outdoor education school of UCCR.
Visit Camp Cazadero on the web at http://www.uccr.org/cazadero/ or call UCCR at 800-678.5102 to reserve a stay.