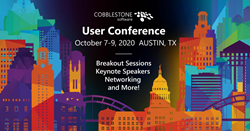 "Based on Contract Insight user feedback, our 2020 event will focus on workflow, searching and reporting, artificial intelligence, streamlined contract writing with templates and clauses, purchasing, bid management, procurement, and much more." - Mark Nastasi, VP of CobbleStone Software
PRINCETON, N.J. (PRWEB) March 03, 2020
CobbleStone Software, a leader in contract management software is pleased to announce their 2020 Contract Management Conference this October 7th-9th in Austin, TX.
This highly-anticipated contract management event showcases the best of CobbleStone Software and builds upon the success of CobbleStone's previous contract management conferences. Attendees will find more breakout sessions, one-on-one support, interactive demonstrations, keynote speakers, networking opportunities, and more.
Current users are encouraged to join the CobbleStone team and take advantage of educational sessions – from Contract Insight® system configuration to AI-based contract management.
CobbleStone's goal is for attendees to gain a deeper understanding of contract management best practices and to return to their organizations with expanded contract management software expertise and actionable items.
"We collected feedback from attendees of our previous contract management conferences to provide the best support and value to our loyal clients. Based on user feedback, our 2020 event will focus on the hottest contract management topics, including workflow, searching and reporting, artificial intelligence, streamlined contract writing with templates and clauses, purchasing, bid management, procurement, and much more." - Mark Nastasi, VP of CobbleStone Software
To learn more about CobbleStone Conference and to reserve your spot, contact the CobbleStone Team at conference@cobblestonesoftware.com or call 866-330-0056.
About CobbleStone Software
CobbleStone Software has been a leader in providing enterprise contract management, vendor management, and eSourcing software solutions for over 20 years and is trusted by thousands of users. CobbleStone's Contract Insight contract management suite provides contract and vendor tracking, configurable email alerts, calendar notifications, contract workflow management, robust security options, authoring of contract templates with dynamic clauses, executive dashboards, full-text indexing and searching, vendor scoring, document version control, custom reports, electronic signatures, smarter contracts with artificial intelligence and machine learning, and more