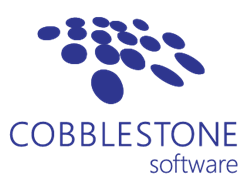 "We are confident that CobbleStone's integration with Google Workspace will add greater flexibility to our clients' contract management, procurement, sourcing, and vendor management software workflow processes – increasing efficiency and efficacy."-Mark Nastasi, EVP & Founder of CobbleStone Software
PRINCETON, N.J. (PRWEB) May 03, 2021
CobbleStone Software - a contract management software Leader, according to Forrester - is pleased to announce its integration with Google Drive for Google Docs collaboration.
CobbleStone Software's integration with Google Workspace (formerly G Suite), which includes Google Docs and supports a concurrent document management and document editing experience, adds to its preexisting robust integration options. CobbleStone's integration with Google Drive allows for concurrent and cloud-based document editing - yielding a streamlined workflow with refreshingly low friction, especially when working with multiple stakeholders across the company. CobbleStone Software's integration with Google Workspace further highlights its dedication to offering a highly configurable source-to-contract management software solution that prioritizes an intuitive user experience.
"We, at CobbleStone Software, are excited to integrate Google Workspace with our leading-edge source-to-contract management software system," says Mark Nastasi, Executive Vice President & Founder of CobbleStone Software.
"We strongly believe this integration will add greater flexibility to our clients' contract management, procurement, sourcing, and vendor management software workflow processes - increasing the preexisting high configurability of CobbleStone for optimal organizational workflow efficiency and efficacy."
To learn more about how CobbleStone's Contract Insight® integrates with Google Docs, read this article.
About CobbleStone Software:
CobbleStone Software has been a visionary in enterprise contract management, eProcurement, vendor management, and eSourcing software solutions for over 20 years. CobbleStone Software's contract management software platform offers full contract lifecycle management with configurable contract workflow management, email notifications, calendar alerts, contract writing with templates and dynamic clauses, contract negotiations, robust security options, revenue/cost management, vendor tracking, vendor/client scoring and rating, bid and RFx management, simple OFAC search integration, a custom report designer, full-text searching and indexing, document version control, electronic signatures, digital signatures, artificial intelligence and machine learning, AI-based clause recognition, and more.
To stay up-to-date with valuable and visually engaging video content, subscribe to CobbleStone's YouTube channel and their Contract Insights blog!
Contact CobbleStone Software for a free demo and pricing information at Sales@CobbleStoneSoftware.com or call 866-330-0056.
Follow CobbleStone Software on LinkedIn.