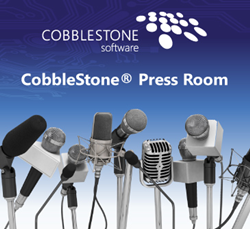 "This contract expands our strong and satisfied base of state and local government clients, in whose contract and procurement processes we help revitalize and develop for streamlined, automated, and user-friendly experiences." - Mark Nastasi, President & Founder of CobbleStone
PRINCETON, N.J. (PRWEB) July 20, 2022
CobbleStone Software, a leading contract management software provider, is pleased to announce that it has been awarded Texas DIR cooperative contract DIR-CPO-5081 for its Software Solutions. The contract will expand on the offering of CobbleStone's leading-edge contract management and procurement software platform – CobbleStone Contract Insight®.
CobbleStone Software, an acclaimed leader in enterprise contract lifecycle management and eProcurement software solutions, has been in business for more than 20 years and has proven experience in offering ever-evolving contract management and eProcurement tools for digital transformation. They are already trusted by thousands of Texas-based state and local government users.
CobbleStone Contract Insight software offers contract and procurement professionals a user-friendly and low-friction experience.
CobbleStone is the leading contract lifecycle management software dedicated to helping government professionals manage all parts and processes throughout the life of their contracts, making CobbleStone the best option for Texas-based government professionals.
To learn more about CobbleStone's cooperative contract with Texas DIR, click here.
"We at CobbleStone Software are excited to hold a cooperative contract with Texas DIR," says Mark Nastasi, President & Founder of CobbleStone Software.
"This contract expands the offering of our leading-edge contract lifecycle management software to our strong and satisfied base of government clients in Texas, and we know our solutions can play a crucial role in revitalizing the contract and procurement processes of the many state and local government organizations associated with the Texas DIR."
To learn more about CobbleStone Software's leading contract management and procurement software suite, CobbleStone Contract Insight, visit CobbleStone Software.
Contact CobbleStone Software to schedule a free demo and acquire pricing information at Sales@CobbleStoneSoftware.com or call them at 866-330-0056.
About CobbleStone Software:
CobbleStone Software is a celebrated leader in contract management software solutions whose flagship CLM software solution – CobbleStone Contract Insight – expedites contract management, vendor management, eProcurement, and eSourcing processes while offering seamless integrations, ease-of-use, and high scalability. CobbleStone's contract lifecycle management solutions provide simplified contract and vendor tracking, highly configurable email alerts, user-friendly calendar notifications, intelligent contract workflow automation, highly robust security options, streamlined authoring of contract templates with dynamic clauses, centralized revenue/cost management, detailed text indexing and searching, future-minded vendor/client ratings, robust document version control, custom contract management reports, speedy IntelliSign® electronic signatures, more intelligent contracts with VISDOM® artificial intelligence and machine learning, and more.
Follow CobbleStone Software on social media:
> LinkedIn
> Twitter
> Facebook
> YouTube
To stay up to date on contract lifecycle management industry trends and news, subscribe to CobbleStone's Contract Insights blog.