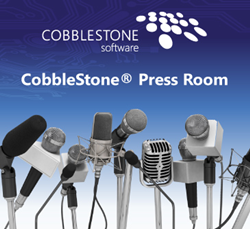 "We at CobbleStone prioritize clients' ease of use, security, and process centralization. The ability for contract professionals to leverage this SSO connector enhances multi-factor authentication processes and streamlines business operations." – Mark Nastasi, EVP & Founder at CobbleStone Software
PRINCETON, N.J. (PRWEB) November 16, 2021
CobbleStone Software – a leader in CLM software according to Forrester Research, Inc. – is pleased to announce that it offers a single sign-on (SSO) connector for MS Azure on the Microsoft AppSource Marketplace.
The CobbleStone Azure AD single sign-on SSO connector boosts productivity, helps with password policies, and simplifies MFA (multi-factor authentication) login processes. The SSO connector can reduce the threat of untimely termination and identity decommissioning by reducing "identity sprawl" so organizations can hold one identity in multiple applications per user. This single, centralized MFA minimizes the success of phishing attacks against CobbleStone users due to password reuse or social engineering.
This single sign-on (SSO) add-on is complimentary to CobbleStone Contract Insight clients that have purchased and licensed CobbleStone Contract Insight on the Microsoft AppSource Marketplace who have MS Azure AD licenses issued by and purchased separately through Microsoft.
"At CobbleStone Software, we are excited to present our efficient and convenient single sign-on (SSO) connector for MS Azure on the MS AppSource Marketplace," says Mark Nastasi, Executive Vice President & Founder of CobbleStone Software
"We at CobbleStone prioritize our clients' ease of use, security, and process centralization. The ability for contract professionals to leverage the SSO connector for CobbleStone Software and MS Azure enhances multi-factor authentication processes and streamlines mission-critical business operations in the age of digital transformation."
Click here if you are a current CobbleStone user looking to enjoy the SSO connector!
Click here to purchase CobbleStone Contract Insight on the Microsoft AppSource Marketplace!
Contact CobbleStone Software for a free demo and pricing information at Sales@CobbleStoneSoftware.com or by phone at 866-330-0056.
About CobbleStone Software:
CobbleStone Software is a celebrated leader in contract management software solutions whose flagship CLM software solution – CobbleStone Contract Insight – expedites contract management, vendor management, procurement, and sourcing processes while offering seamless integrations, ease-of-use, and high scalability. CobbleStone's contract lifecycle management solutions provide simplified contract and vendor tracking, highly configurable email alerts, user-friendly calendar notifications, intelligent contract workflow automation, highly robust security options, streamlined authoring of contract templates with dynamic clauses, centralized revenue/cost management, full-text indexing and searching, future-minded vendor/client ratings, complete document version control, custom contract management reports, speedy IntelliSign® electronic signatures, more intelligent contracts with VISDOM® artificial intelligence and machine learning, and more.
Follow CobbleStone Software on Social Media: