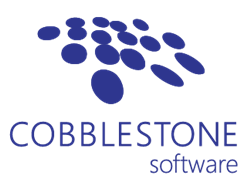 "We feel confident that this partnership will further enhance our service delivery options to organizations in ranging industries in need of CLM support, implementation, data integration, and other services that we offer at CobbleStone Software." - Mark Nastasi, EVP & Founder of CobbleStone Software
PRINCETON, N.J. (PRWEB) March 29, 2021
CobbleStone Software - a celebrated contract management software global Leader, according to Forrester - is pleased to announce its partnership with Stellar.
Stellar Services, a new CobbleStone service partner, is a solutions consulting firm with over 27 years of experience in providing a comprehensive range of effective and innovate consulting and professional services to government agencies and commercial and/or private industries, including Education, Energy, Utilities, and Pharmaceutical - as well as a breadth of experience in several veins of the Transportation industry: Ports, Subways/Metropolitan Transportation, Airports and Airlines.
CobbleStone Software's partnership with this established GSA service partner extends CobbleStone's provisioning of their software, implementation, training, and services for organizations in need of contract management, vendor management, procurement, and sourcing software solutions.
"We, at CobbleStone Software, are honored to include Stellar Services in our partner network," says Mark Nastasi, Executive Vice President & Founder of CobbleStone Software.
"We feel confident that this partnership will further enhance our service delivery options to organizations in ranging industries in need of contract management software support, implementation, data integration, project management, and other mission-critical services and integrations that we at CobbleStone Software offer. As always, we continuously work to innovate and offer more user-friendly, powerfully integrated, low-friction, and scalable source-to-contract management software solutions for our clients to increase efficiency and efficacy with contract management, vendor management, procurement, and sourcing processes."
To learn more about Stellar, click here.
About CobbleStone Software:
CobbleStone Software has been a visionary leader in enterprise contract management, vendor management, eProcurement, and eSourcing software since the mid-1990s. CobbleStone's contract management software suite offers comprehensive contract lifecycle management with configurable contract workflow automation, email alerts, calendar notifications, contract writing with dynamic clauses, contract negotiations and collaboration, robust security options, full revenue/cost management, vendor tracking, vendor rating and scoring tools, bid and RFx management, seamless OFAC search integration, a custom report designer, full-text indexing and searching, document version control, full audit trails, electronic signatures, digital signatures, contract artificial intelligence and machine learning, AI-based clause recognition, and much more.
To stay up-to-date with helpful and informative content, subscribe to CobbleStone's - YouTube channel and their Contract Insights blog!
Contact CobbleStone for a free demo and pricing information at Sales@CobbleStoneSoftware.com or call 866-330-0056.