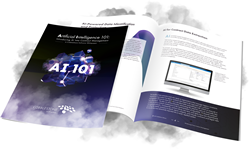 The "Introducing AI Into Contract Management" whitepaper can help contract professionals leverage AI-based contract management to make informed decisions and focus on the strategic aspects of contract management."– Matthew Friebis, Director of Information Technology at CobbleStone Software
PRINCETON, N.J. (PRWEB) January 13, 2020
CobbleStone Software, the leader in contract management and eProcurement software, has released the free whitepaper, "Artificial Intelligence 101: Introducing AI Into Contract Management" to help contract, legal, and procurement professionals attain improved contract oversight, proactive opportunity realization, and advanced understanding of contract risk.
"Artificial Intelligence 101: Introducing AI Into Contract Management" can help readers:

Streamline Data Extraction and Identification
Enhance Risk Identification and Prevention
Visualize Risk with Mapping and Assessment Tools
Identify Sensitive Data
Improve Contract Oversight
Promote Opportunity Realization
Download the free whitepaper today!
"Contract management professionals encounter a myriad of demands regarding data extraction, risk mitigation, data protection, and more. The "Artificial Intelligence 101: Introducing AI Into Contract Management" whitepaper can help contract professionals leverage contract management artificial intelligence. As a result, they can focus on informed decision-making with an enhanced understanding of contract risk, a streamlined field navigation experience, and more opportunity to focus on strategic aspects of contract management."– Matthew Friebis, Director of Information Technology at CobbleStone Software
CobbleStone is committed to providing valuable content to its readers and software users. Read CobbleStone Software's free whitepaper to learn how revolutionary advancements with VISDOM® AI are extremely advantageous to Contract Insight® users.
About CobbleStone Software
CobbleStone Software has been a leader in providing enterprise contract management, vendor management, and eSourcing software solutions for over 20 years and is trusted by thousands of users. CobbleStone's Contract Insight contract management suite provides contract and vendor tracking, configurable email alerts, calendar notifications, contract workflow management, robust security options, authoring of contract templates with dynamic clauses, revenue/cost management, full-text indexing and searching, vendor/client ratings, document version control, custom reports, electronic signatures, smarter contracts with artificial intelligence and machine learning, and more.
To learn more about Contract Insight, contact the CobbleStone Team at sales@cobblestonesoftware.com or call 866-330-0056.