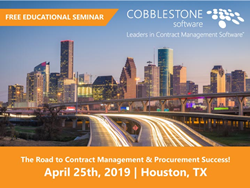 "Our group training and free seminar provide the opportunity to focus on attendees' specific needs and questions. Attendees have found the training to be very helpful and were able to learn a lot within a collaborative group session." – Nash DeVita, CobbleStone Software Implementation Coordinator
PRINCETON, N.J. (PRWEB) April 19, 2019
CobbleStone Software, a leader in contract management and eProcurement software, brings their 2019 Seminar Series and Group Training Tour to Houston, TX on April 25th, 2019. The 2019 event series, "The Road to Contract Management & Procurement Success", is designed to help attendees leverage technology to improve their contract management and procurement processes.
For those new to CobbleStone, and who are interested in a contract management software built for them, CobbleStone is offering a free educational seminar, covering the fundamentals of contract management software while discussing the many different options to best meet your needs.
Current CobbleStone Software users are encouraged to register for the Contract Insight® Group Training Tour, covering the ins and outs of Contract Insight while diving deep into the benefits of smart tools like intelligent workflows and machine learning.
On April 25th, 2019, both the Contract Insight Group Training Tour and the Free Educational Seminar will be held at the Wingate by Wyndham Houston Bush Intercontinental Airport IAH.
The free seminar agenda covers an introduction to Contract Insight, drafting better templates, risk management, and artificial intelligence.
The group training agenda covers workflows and managing alerts, eSourcing/eProcurement, and reporting and dashboards.
"Our group training and free seminar provide the opportunity to focus on attendees' specific needs and questions. Attendees have found the training to be very helpful and were able to learn a lot within a collaborative group session." – Nash DeVita, CobbleStone Software Implementation Coordinator
Contract professionals are encouraged to take advantage of this in-person training experience to see CobbleStone's award-winning software in action. If you're looking for an edge in managing your contracts, you don't want to miss this!
Free Educational Seminar: Reserve my seat
Contract Insight Group Training Tour: Register now
CobbleStone Software is a leader in providing enterprise contract management, vendor management, and eSourcing software solutions for over 20 years and is trusted by thousands of users. CobbleStone's contract management solutions provide contract and vendor tracking, user-defined fields, configurable email alerts, calendar notifications, contract workflow management, multiple security options, authoring of contract templates with dynamic clauses, revenue/cost management, full text indexing and searching, vendor/client ratings, document version control, custom reports, electronic signature, smarter contracts with machine learning, and more.
To learn more about CobbleStone Software's training events, contact the CobbleStone Team at training(at)cobblestonesoftware.com or call 866-330-0056.