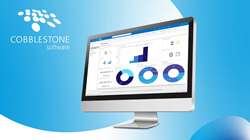 "Contract Insight Executive Graphical Dashboards transform the visualization and consumption of information regarding contracts, obligations, sourcing events, and more." Bradford Jones, Director of Sales & Marketing at CobbleStone Software
PRINCETON, N.J. (PRWEB) March 17, 2020
CobbleStone Software, a leader in contract management and eProcurement software, is excited to announce enhanced contract analytics with Executive Graphical Dashboards, now available with the release of Contract Insight® version 17.5.0.
When creating a new dashboard, CobbleStone system administrators can now choose between the established Standard Dashboard or the Executive Graphical Dashboard. This new Executive Dashboard option includes visually engaging graphics for Contract Insight users to see valuable information at a glance!
Get started with next-level contract data analysis, with pre-configured Executive Dashboards such as:

Contracts KPI
Contracts Overview
Counts by Department
Legal Dashboards
Vendor Management
Year Analysis
Bid Overviews
Executive Dashboards can be created for both System Dashboards (by a system administrator) and User Dashboards!
"Contract Insight Executive Graphical Dashboards transform the visualization and consumption of information regarding contracts, obligations, sourcing events, and more. With this helpful feature, we are proud to continue our leadership in the industry by giving our users increasing control over their entire source-to-contract process." Bradford Jones, Director of Sales & Marketing at CobbleStone Software
Get started with Contract Insight Enterprise 17.5.0 today to leverage Executive Graphical Dashboards and many more innovative features CobbleStone has released for successful contract management!
CobbleStone Software has been a leader in providing enterprise contract management, vendor management, and eSourcing software solutions for over 20 years and is trusted by thousands of users. CobbleStone's contract management solutions provide contract and vendor tracking, configurable email alerts, calendar notifications, contract workflow management, robust security options, authoring of contract templates with dynamic clauses, revenue/cost management, full-text indexing and searching, vendor/client ratings, document version control, custom reports, electronic signature, smarter contracts with artificial intelligence and machine learning, and more.
To learn more about Contract Insight, contact the CobbleStone Team at sales@cobblestonesoftware.com or call 866-330-0056.