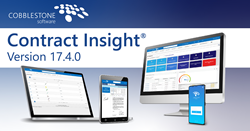 "We are proud to continue our leadership in the industry with various tools to improve the entire procurement-to-contract lifecycle, including advanced purchasing and order management for our users." – Bradford Jones, Director of Sales & Marketing at CobbleStone Software
PRINCETON, N.J. (PRWEB) December 17, 2019
CobbleStone Software, a leader in contract management and eProcurement software, is excited to introduce simplified supplier purchasing and time-saving order management to their Source-to-Contract suite with Contract Insight® version 17.4.0.
Purchase requests and fulfillment have never been easier, thanks to punchout integration that enhances the user experience with item selection from leading suppliers such as top electronic component distributors, high-profile industrial supply companies, global e-commerce organizations, and more!
Integrated punchout functionality streamlines the purchasing process, allowing for easier punchout requests and fulfillment.
With the cutting-edge shopping cart feature, users enjoy an easily-navigable selection process, viewing relevant product images from approved catalogs as they shop with sleek Shopping Cart requests and purchase orders.
"We are proud to continue our leadership in the industry with various tools to improve the entire procurement-to-contract lifecycle, including advanced purchasing and order management for our users." – Bradford Jones, Director of Sales & Marketing at CobbleStone Software
Get started with Contract Insight Enterprise 17.4.0 today to leverage the innovative features CobbleStone has released for successful eProcurement and contract management!
CobbleStone Software has been a leader in providing enterprise contract management, vendor management, and eSourcing software solutions for over 20 years and is trusted by thousands of users. CobbleStone's contract management solutions provide contract and vendor tracking, configurable email alerts, calendar notifications, contract workflow management, robust security options, authoring of contract templates with dynamic clauses, revenue/cost management, full-text indexing and searching, vendor/client ratings, document version control, custom reports, electronic signature, smarter contracts with artificial intelligence and machine learning, and more.
To learn more about Contract Insight, contact the CobbleStone Team at sales@cobblestonesoftware.com or call 866-330-0056.