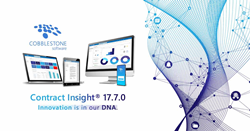 Contract Insight Enterprise 17.7.0 supplies our loyal userbase with a fully-integrated, robust, & scalable software suite to support their contract management, vendor management, sourcing, purchasing, & procurement needs." – Bradford Jones, Director of Sales & Marketing at CobbleStone Software
PRINCETON, N.J. (PRWEB) September 28, 2020
CobbleStone Software – an established leader in contract management, sourcing, and procurement software – releases Contract Insight Enterprise Version 17.7.0. This release brings new features and enhancements to enrich contract management, vendor management, sourcing, and procurement processes.
Contract Insight 17.7.0 can help organizations of various industries and sizes in both the public and private sectors by equipping them with the most innovative and useful tools to meet and surpass their contract management KPIs and sourcing, vendor management, and procurement goals.
Features & Enhancements Available with Contract Insight 17.7.0:

AI-Powered Clause Extraction & Machine Learning: Leverage advanced clause identification and extraction, and supplement machine learning by storing text from contract clauses for machine learning.
Integrated CobbleStone PC Helper Application: Deeper integration with MS Word for a centralized pool of tools that help with contract writing, contract negotiation, contract record creation, data extraction, document comparison, and much more.
Simplified Record Creation: Users can create new reference data – such as counterparty name, department, and contract term – straight from their record details page, in real-time while the record is being made.
eSourcing Bid Tabulation Reports: These user-friendly reports can be leveraged to easily compare vendor bid response criteria such as pricing line items, Q&A, scoring, and more for a rapid bid overview process. Please note that eSourcing is an optional, licensed add-on module.
Easier Contract Type Administration: Bulk data field assignment to record types expedites field management when all fields or all but a few fields need to be assigned to a specific record type.
Enriched Spend Analytics: System administrators can run instant analyses of contract spend metrics against other contracts within their organization's system – directly from the Contract Details page.
Proactive Date Validation: Users adding or editing information to a contract will receive a clear message if attempting to save a contract record where the expiration date comes before the effective date.
Streamlined Request Approval: Users have more governance over the linking of documents and other files between request records and corresponding contract records.
Better Visibility for Planned Bids & Opportunities: Vendors and the general public can learn the specifics for planned bids and opportunities before they are active.
IntelliSign℠ & Document Collaboration User Experience Enhancements: Approval and eSignature process transparency, more accessible template options, and better governance over up-to-date templates are available with 17.7.0. Please note that IntelliSign is an optional, licensed add-on module.
"CobbleStone is thrilled to present the latest innovations and enhancements to our acclaimed source-to-contract management software platform with the release of Contract Insight Enterprise 17.7.0. We are proud to continue our leadership in the industry by supplying our loyal userbase with a fully-integrated, robust, and scalable software suite to support their contract management, vendor management, sourcing, purchasing, and procurement needs." – Bradford Jones, Director of Sales & Marketing at CobbleStone Software
Implement CobbleStone Software's Contract Insight Enterprise 17.7.0 today to leverage the powerful features and tools that CobbleStone has developed to pave the way for successful contract management, sourcing, procurement, and vendor oversight.
CobbleStone Software has been a well-known leader in enterprise contract management, vendor management, eSourcing, and eProcurement software for over 20 years and is trusted by thousands of organizations. CobbleStone's Contract Insight provides contract and vendor tracking, calendar notifications, configurable email alerts, automated contract workflow management, vigorous security options, writing of contract templates with dynamic clauses, executive graphical dashboards, full-text searching and indexing, OFAC Search integration, vendor rating and scoring, document version control, custom reports, electronic signatures, smarter contracts with artificial intelligence and machine learning, and more.
To stay up-to-date with valuable and visually engaging video content, subscribe to CobbleStone's YouTube channel!