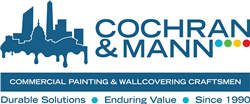 "Being selected as subcontractor of the year by our peers means so much to our team." - Mike Cochran, President, Cochran & Mann
FREDERICK, Md. (PRWEB) October 30, 2020
Cochran & Mann, a commercial painting and wallcovering subcontractor based in Frederick, Md., has been named the Painting & Wallcoverings Subcontractor of the Year in the American Builders and Contractors' Excellence in Construction Awards (EIC).
ABC's EIC awards, "recognize and celebrate outstanding projects built by Washington-area ABC members annually. The awards competition serves to raise the level of construction standards throughout the industry by recognizing the workmanship of those who contribute and by showcasing the results of their dedication. Teamwork and cooperation between general contractors, specialty contractors, and material suppliers are prerequisites for building excellence into any construction project," according to the organization's website.
This year marks the eighth overall award and third in the last five years. The team at Cochran & Mann is proud of an accomplishment that few others have achieved.
"Being selected as subcontractor of the year by our peers means so much to our team," said Mike Cochran, president of Cochran & Mann, "knowing that our hard work and creativity are recognized by our clients and by other contractors really highlights how dedicated we are to delivering above-and-beyond painting and wallcovering services."
Cochran & Mann is a family-owned business specializing in paint and wall-coverings for commercial, industrial, and residential buildings. Though we've grown a lot since 1990, we remain a family owned-and-operated business guided by the principles of transparency, reliability, responsiveness, craftsmanship, and loyalty.