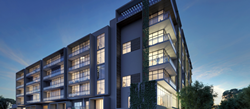 Penetron technology ensured an absolutely waterproof and durable concrete structure for the Arbor project in one of the most desirable locations in Miami.
EAST SETAUKET, N.Y. (PRWEB) February 03, 2020
Arbor, the newest luxury condo development in Coconut Grove, was officially opened in December 2019, in time for the New Year. The five-story building utilized Penetron crystalline technology in critical areas of high-water exposure.
First settled in 1825, Coconut Grove is Miami's oldest neighborhood, with numerous restaurants, open air cafés, waterfront restaurants and bars. The neighborhood has a vibrant nightlife frequented by locals, tourists, and students from the nearby University of Miami and Florida International University.
Stylish Seaside Community
"It's hard to imagine, but just over a century ago the whole Miami area was little more than a vast wilderness dotted with small settlements along the shores of Biscayne Bay," notes Christopher Chen, Director of The Penetron Group. "One of those communities was Coconut Grove, a tropical frontier village that's older than Miami. Today, 'the Grove' enjoys a reputation as a stylish, attractive community on the shimmering Atlantic Ocean."
Situated on the top of a limestone ridge, the Arbor is a five-story modernist building designed by Behar Font Architects. The development offers 52 luxury condo units ranging in size from 1,416 square feet (131 m²) to 2,010 square feet (187 m²). There are four penthouses. Developed by Urban Atlantic Group and Oak Ventures, the luxury condo site lies just north of the Cocowalk, the heart of Coconut Grove and a popular destination for shopping, dining and entertainment. Amenities include a courtyard deck with a pool, barbecue areas, a fitness center, social lounge, underground parking, a bicycle share program, and a rooftop terrace designated for yoga.
Dealing with High Groundwater and Seawater
With a construction site just a quarter mile from Biscayne Bay, the project engineers asked Penetron to collaborate with Supermix, the ready-mix supplier, to provide a reliable waterproofing solution for the pool structure and the building's foundation slab, retaining walls and below-grade elevator pits. Supermix provided a concrete mix treated with PENETRON ADMIX, which was added during the batching phase.
"The proximity of the ocean and the area's typical high groundwater levels pose a threat to any reinforced concrete structure," adds Christopher Chen. "The chloride ions present in seawater can rapidly destabilize the passive layer of protection around rebar. Once that protective layer is breached, corrosion of the steel sets in. The Arbor project benefitted from the waterproofing and corrosion-mitigating properties of PENETRON ADMIX."
Tropical Climate Demands Durable Concrete
As a crystalline admixture, PENETRON ADMIX reacts with moisture in concrete to generate a crystalline formation throughout the pores, micro-cracks and capillary tracts found in concrete. These non-soluble crystals permanently self-heal microcracks, pores and capillaries against the penetration of water or liquids from any direction, substantially reducing concrete permeability. As an integral waterproofing solution, PENETRON ADMIX also provides low shrinkage and self-healing properties - a highly effective combination for concrete structures in the high groundwater environments encountered in the Miami area.
"Penetron technology ensured an absolutely waterproof and durable concrete structure for the Arbor project in one of the most desirable locations in Miami," concludes Christopher Chen.
The Penetron Group is a leading manufacturer of specialty construction products for concrete waterproofing, concrete repairs and floor preparation systems. The Group operates through a global network, offering support to the design and construction community through its regional offices, representatives and distribution channels.
For more information on Penetron waterproofing solutions, please visit penetron(dot)com or Facebook(dot)com/ThePenetronGroup, email CRDept(at)penetron(dot)com, or contact the Corporate Relations Department at 631-941-9700.