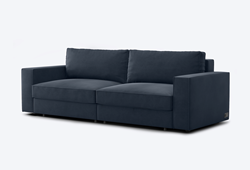 SAN FRANCISCO (PRWEB) January 23, 2020
Coddle, the leading tech furniture start-up that's creating products meant for compact and mindful living, is expanding its product line with the launch of the Switch Queen Convertible Sofa.
The Switch thoughtfully combines the idea of functional and compact living by incorporating a contemporary design and luxury build with versatile positions—chaise, sleeper, or sofa. It takes just a light touch to easily transform it into the desired position. Hand-crafted with the utmost care, it's made with premium materials that are both sumptuous and life-proof. It features integrated power and USB ports. Available in Queen, the Switch is offered in 5 colors across two fabric options.
"Coddle aims to be at the forefront of designing high-quality furniture that understands consumers' needs and their pain points. With the Switch, we wanted to design a sofa that not only meets the challenge of efficiency of space but gives a luxurious feel and the ultimate customer experience," said Sean Pathiratne, Founder and CEO of Coddle. "We wanted to create a product that catered to smaller living spaces and the concept that our products are meant for contemporary everyday life while adapting to your needs."
The Switch Queen Convertible Sofa is available exclusively at http://www.coddleme.com, starting at $1,999.00.
About Coddle
Coddle is a start-up creating furniture that combines design, tech, and science to better fit our modern lifestyles.
For more information about Coddle, please visit http://www.coddleme.com as well as the company's Facebook, Twitter, YouTube, and LinkedIn (https://www.linkedin.com/company/coddleme)
Media Inquiries-
Coddle Inc.
press@coddleme.com