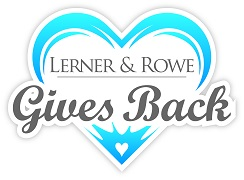 Amazing things occur when a community pulls together to help those in need.
Phoenix, AZ (PRWEB) August 25, 2017
Lerner and Rowe's Phoenix law offices are partnering up with 98 KUPD's Operation Hydration in a final push to increase water bottle donations to benefit Phoenix Rescue Mission's annual Code:Red summer heat relief campaign. The law firm helped kicked off the Mission's summer campaign to combat heat related injuries among homeless and disadvantaged community members with a $10,000 donation. Lerner and Rowe's legal teams also volunteered to open their doors and serve as water bottle donation collection centers. Through the partnership with 98 KUPD, this legal team that is dedicated in giving back hopes to raise even more awareness about Code:Red and in turn bring more relief to those in need and help the Mission save more lives.
"Last year our law firm personally raised over 175,000 bottles of water of the 1.1 million total donated to the Phoenix Rescue Mission during Code:Red 2016. That impressive number is an amazing example of what can occur when a community pulls together to help those in need," said Phoenix personal injury attorney Kevin Rowe. "In an effort to assist the Mission surpass last year's donation totals, we are partnering up with 98 KUPD's Operation Hydration to help increase awareness before the Code:Red campaign concludes."
Please contact Cindy Ernst with any questions about the Lerner and Rowe drop off locations by dialing 602-977-1900 or via email at cernst(at)lernerandrowe(dot)com.
More About Lerner and Rowe
For additional information about Lerner and Rowe's Phoenix personal injury attorneys call (602) 977-1900. To learn more about the criminal defense and bankruptcy legal services offered by their partner law firm Lerner and Rowe Law Group, visit lernerandrowelawgroup.com or call (602) 667-7777.
To connect with the law firm socially, follow Lerner and Rowe on Twitter, or become a fan of their Facebook page. Also visit lernerandrowegivesback.com to learn more about the community services that the lawyers and legal support team of Lerner and Rowe actively support.
###