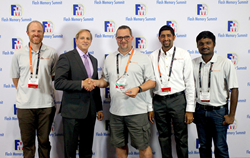 Strong error-correction performance is of paramount importance for flash controller technologies as the market progresses to the latest NAND flash memories
SANTA CLARA, Calif. (PRWEB) August 12, 2019
Codelucida's FAID™ low-density parity-check (LDPC) error-correction technology was honored with the Most Innovative Flash Memory Technology award at the Flash Memory Summit 2019 Best of Show Awards ceremony.
Flash Memory Summit, the world's largest and most prestigious storage industry conference and exposition, recognized Codelucida for their impressive leadership and innovation with technology and solutions in the Flash Memory and Solid-State Storage industries.
According to the show's organizers, a record number of award submissions were received this year making the judging challenging and each of the categories extremely competitive.
"Strong error-correction performance is of paramount importance for flash controller technologies as the market progresses to the latest NAND flash memories for FPGA and ASIC designs," said Jay Kramer, Chairman of the Awards Program and President of Network Storage Advisors Inc. "We are proud to recognize Codelucida's FAID™ LDPC patented technology for delivering best-in-class error correction capabilities with highly scalable throughputs while eliminating complexity in NAND management."
"We are truly honored to receive this prestigious recognition alongside the biggest leaders in the storage industry," said Shiva Planjery, CEO of Codelucida. "The award validates the importance of our innovative technology for enabling denser NAND flash memories, especially with the ever-increasing throughput requirements. We are grateful to the show's organizers for this recognition and look forward to working with our industry partners to enable the next generation of flash memories."
The Most Innovative Flash Memory Technology category recognizes innovations that will change the way flash memory is used in products, and raises the bar to new levels of performance, availability, endurance, scalability and/or energy efficiencies.
Codelucida's FAID™ is a disruptive LDPC error-correction technology consisting of unique patented encoding and decoding algorithms that achieve high throughputs and increased error correction capability with proprietary features that simplify NAND flash media management. The technology will enable a faster adoption of denser memories for enterprise, data center, and consumer storage applications.
About Flash Memory Summit
Flash Memory Summit, produced by Conference ConCepts, showcases the mainstream applications, key technologies and leading vendors that are driving the multi-billion-dollar non-volatile memory and SSD markets. Now in its 14th year, FMS is the world's largest event featuring the trends, innovations and influencers driving the adoption of flash memory in demanding enterprise storage applications, as well as in smartphones, tablets, and mobile and embedded systems. @FlashMem, #FlashMemorySummit2019 #FlashMemorySummitBestofShowAwardWinner
About Codelucida
Codelucida, Inc. provides disruptive custom designed LDPC error-correction solutions to support the next generation of NAND flash memories and other emerging memories. Headquartered in Tucson, Arizona, the company was founded by a team of industry-leading experts in error correction based on their research that was done at the University of Arizona, and University of Cergy-Pontoise, France. For more information, please visit http://www.codelucida.com.