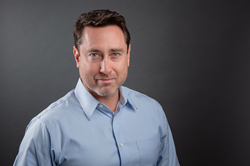 Griffin brings a depth of energy, international experience and industry knowledge that will supercharge our efforts to expand our international reach.
AUSTIN, Texas (PRWEB) November 04, 2019
Griffin Leen-Sohl, a hosting and managed services industry veteran with over 20 years of experience in progressively senior roles at companies such as Rackspace, Catapult Systems, Cogeco Peer1, Hostway, and BigCommerce, has been named Vice President and Chief Sales Officer at Codero, a hosted solutions provider of IT infrastructure and cloud integration services. Griffin leads Codero's global sales, channel and marketing teams.
Griffin previously served as Codero's Director of Global Channels, where he was responsible for onboarding and training the company's network of U.S.-based and international channel partners.
"I am really happy to have Griffin on Codero's leadership team," said Bill King, Codero's president and chief executive officer. "He brings a depth of energy, experience and industry knowledge that will accelerate our efforts to project the Codero brand and its products to our customers and the market. His extensive experience serving customers in South America and Latin America will supercharge our efforts to expand our international reach."
"I'm both proud and honored to be part of Team Codero and look forward to making a strong contribution to the company's growth," said Griffin Leen-Sohl. "For the last two decades my focus has been on addressing the technology needs of ecommerce and internet-based companies, both in the United States and internationally. Codero provides its customers Serious Support™, an organizational commitment to providing personalized, scalable and unparalleled support to each and every one of its customers. Codero's deep commitment to supporting its customers hosted infrastructure is the 'special sauce' that differentiates Codero from the competition."
Griffin has extensive experience in the hosting, ecommerce, and system integration industries. Fluent in Spanish, he brings a long history of working with South American and Latin American companies to address their hosting and ecommerce needs. Griffin holds a business degree from Trinity University in San Antonio, Texas and certificates from Instituto Technologico y de Estudios Superiores de Monterrey (ITESM) in Monterrey and Guadalajara, Mexico.
About Codero
Codero delivers IT infrastructure and cloud integration services to over 3,000 customers worldwide. Our mission is straightforward -- provide the infrastructure, integration and support needed to enable our customers and partners to grow and thrive. We offer our services through a growing network of advanced, enterprise-grade data centers that avails our customers access to a comprehensive set of dedicated and virtualized cloud solutions. Codero's Serious Support™ is an organizational commitment to provide our customers with unrelenting, proactive and comprehensive support. Visit http://www.codero.com for more information about Codero and its services.