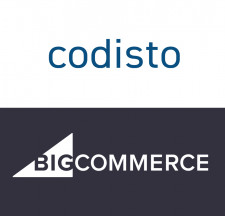 SYDNEY (PRWEB) November 29, 2021
Codisto has announced it has been appointed a BigCommerce Elite Partner as part of a deeper partnership which will see Codisto's award-winning global marketplace solution now made available with free and discounted plans exclusive to BigCommerce merchants.
BigCommerce merchants worldwide can sell on Amazon, eBay, Walmart and Google with a single app-based solution that integrates seamlessly with BigCommerce's Channel Manager. The solution enables the setup and management of a seller's omnichannel presence with automated listing creation, full real-time catalog sync and a fully integrated order flow.
Access to the Codisto app will now come free with all BigCommerce plans. Terms of the offer include:
● Up to 250 free marketplace orders/month across Amazon, eBay and Walmart.
● Free real-time Google Merchant Center sync.
● Automated Google Smart Shopping campaigns and the ability to list and sell across Google surfaces.
● Exclusive, discounted pricing on Codisto's plans for high-volume merchants selling more than 250 orders/month across Amazon, eBay and Walmart.
"These are exciting times for Codisto as we see the third stage evolution of marketplace e-commerce gaining momentum. More sellers are realizing the significant growth opportunity on marketplaces, and this announcement is further evidence of BigCommerce's ongoing commitment to bring these opportunities to their base," said Luke Amery, Founder and CEO of Codisto.
"Whether a store owner is preparing to launch a new e-commerce store or is an established brand selling online for years, online marketplaces should be part of their omnichannel strategy. Merchants need to get their products in front of shoppers in all the places those shoppers are discovering and making purchases, and Codisto makes that possible," said Russell Klein, chief commercial officer at BigCommerce. "By partnering with Codisto, merchants can seamlessly upload their catalog across the leading marketplaces and ads channels worldwide, opening up opportunities to scale their businesses and expand their e-commerce footprint."
To learn more about the new free and discounted Codisto plans for BigCommerce, visit https://codisto.com/bigcommercepricing/.