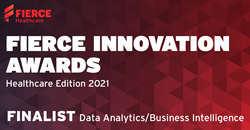 ATLANTA (PRWEB) November 04, 2021
Codoxo, a trusted provider of healthcare artificial intelligence solutions and services for healthcare payers and agencies, has been named a finalist in the 2021 Fierce Healthcare Innovation Awards for its Forensic AI Platform. The Fierce Healthcare Innovation Awards finalists are selected because they "identify and showcase outstanding innovation that is driving improvements and transforming the (healthcare) industry." Finalists were evaluated on their ability to deliver innovative solutions that have the greatest potential to save money, engage patients, or revolutionize the healthcare industry. Codoxo is one of only four finalists in the Data Analytics/Business Intelligence category.
"At Codoxo we like to say 'All AI is not the same' and we are thrilled that Fierce Healthcare Innovation Awards has recognized how our Forensic AI Platform is pushing the limits of what AI can accomplish in the health payer industry," stated Musheer Ahmed, Codoxo's Chief Executive Officer. "Fierce is a well-respected authority in the healthcare industry and I'm so pleased to have our teams' hard work acknowledged and showcased."
Codoxo's Forensic AI Platform analyzes claims to detect entities that intentionally or unintentionally waste money and builds connections across various claim types to deliver actionable insights. Specifically, the Forensic AI Platform evaluates the holistic behavior of any entity (provider, facility, claim, or member) and accurately identifies suspicious activity. Additionally, Codoxo built it's Healthcare Integrity Suite on the Forensic AI Platform, which has been used by healthcare payers and government agencies across the country to identify hundreds of millions of dollars in savings and reduce false positives in fraud detection by 93 percent.
Codoxo is advancing how payment integrity, fraud, waste, and abuse in the health payer and agency industry is tackled with its disruptive AI technology. To find out more about Codoxo, its Healthcare Integrity Suite of solutions and its Forensic AI Platform, please visit https://www.codoxo.com/forensic-ai-platform.
About Codoxo
Codoxo is the premier provider of artificial intelligence-driven applications that help healthcare companies and agencies identify and act to reduce risks from fraud, waste, and abuse and ensure payment integrity. Codoxo's Healthcare Integrity Suite helps clients reduce risks and costs across network management, clinical care, provider education, payment integrity, and special investigation units. Our software-as-a-service applications are built on our Forensic AI Platform, which uses a patented algorithm to identify problems and suspicious behavior earlier than traditional techniques. Our solutions are HIPAA-compliant and operate in a HITRUST-certified environment. For additional information, visit http://www.codoxo.com.