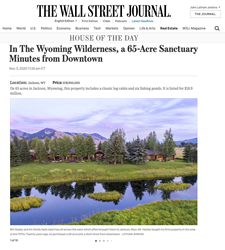 "I treasure having an opportunity to market distinctive listings like Cody Creek. It represents the natural beauty that attracts us to Jackson Hole: the wildlife, the on-property recreation, the thousands of acres of Western viewscapes that are protected by conservation easements." Latham Jenkins
JACKSON HOLE, Wyo. (PRWEB) November 06, 2020
Cody Creek Sanctuary, a 65-acre private refuge just minutes from downtown Jackson, WY, was featured today as the House of the Day in the Wall Street Journal. Recognized for its classic and elegant log home, remarkable open spaces, invaluable wildlife habitat, and expansive waterscapes teeming with cutthroat trout, Cody Creek lives like a miniature national park in the middle of everywhere.
"I came to Wyoming to live in a log home, catch a trout and ride a horse" says Bill Healey, the owner. "I found it all on this property, with the juxtaposition of being a little more than four miles from Jackson's town square."
Healey says he has spent the last 30 years improving the home and surrounding property that is defined by its natural waterscapes. It has created a peaceful sanctuary for the resident elk herd, over one hundred and thirty bird species, including bald eagles, sandhill cranes, osprey, and a variety of wild songbirds. The crystalline waters of Cody Creek—which flows the entire length of the property—provide pristine habitat for native cutthroat trout and boundless opportunities for fly fishing.
Latham Jenkins, the listing Jackson Hole realtor says, "I treasure having an opportunity to market distinctive listings like Cody Creek. It represents the natural beauty that attracts us to Jackson Hole: the wildlife, the on-property recreation, the thousands of acres of Western viewscapes that are protected by conservation easements in perpetuity," says Jenkins.
See WSJ's House of the Day feature https://rb.gy/ak1o2c. Learn more about Cody Creek Sanctuary on the listings website, CodyCreekJacksonHole.com.