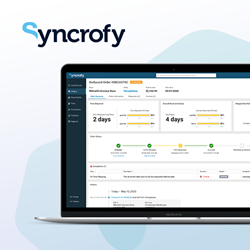 It's like having your own supply chain advisor right by your side, anytime, anywhere.
NEW YORK (PRWEB) July 29, 2020
CoEnterprise, a data-driven enterprise software and services company that solves data challenges in real-time, today announced they have released Syncrofy for Supply Chain (SSC), a real-time visibility platform that helps companies achieve full product order visibility from purchase order to shipment, eliminate costly fines and fees, and correct late payments and late shipments before they happen.
Tailored for supply chain professionals, SSC enables companies to consolidate information that's scattered throughout multiple systems and make it accessible for all users in all departments, without having to leverage IT staff or resources. It stands apart from other platforms on the market today by its ability to calculate fill rate and lead time for both orders and shipments without customization or configuration and reconcile invoices against purchase orders, shipment documentation, and receipts to identify quantity and price discrepancies.
According to industry analyst IDC, supply chain investments aimed at strengthening processes via technology will result in a 15% productivity boost by the end of 2021. Furthermore, having access to the right tools to help analyze supply chain data, and to gain further supply chain visibility, are among the top strategic priorities of companies worldwide in 2020.
"In talking with customers during these uncertain times and doing our own market research, we found that most companies are doing business with blind spots in their supply chain," said Michael Rabinowitz, CEO of CoEnterprise. "A recent survey showed that only 6% of companies have full visibility into their supply chain. This makes it difficult to effectively track orders and reconcile what was ordered against what was shipped and invoiced—commonly leading to vendor chargebacks, late shipments, and ultimately a failure to get paid on time."
"Syncrofy for Supply Chain helps customers identify those potential problems before they happen by providing them with the full order lifecycle right down to the line item level," said Rabinowitz. "It provides supply chain insights and indicators right out of the box that you can't get from other applications. It's like having your own supply chain advisor right by your side, anytime, anywhere."
With SSC, customers can expect to:

Reduce revenue leakage by up to 30% due to late shipments (for retailers)
Reduce chargebacks by up to 30% by correcting errors before they happen (for suppliers)
Eliminate late payments to suppliers, saving an average of 2% on payments
Guarantee suppliers are paid on time, ensuring negotiated discounts (2% or more) while improving credit worthiness
Achieve an ROI of up to three times their initial investment
SSC will help supply chain teams make smarter, better-informed decisions and save, on average, over 53% of the time they currently spend on research. It will also alleviate the burden on IT teams and significantly improve customer satisfaction. Additionally, SSC will make it easy for organizations to implement a chargeback program so they can monitor obligations and carry out an improvement plan.
"We are extremely excited to introduce Syncrofy for Supply Chain to the market," said Jennifer Tattenbaum, VP of Product at CoEnterprise. "As companies struggle to analyze their supply chain and plan for the next black swan event, Syncrofy will be a critical tool that will provide them with the full visibility, valuable insights, and collaborative features they need to identify and prioritize challenges and get on the same page with their internal teams and trading partners."
Syncrofy for EDI already helps many Fortune 100 companies and SMBs across various industries and verticals see and analyze their EDI data while improving their EDI operations and processes. SSC extends the value of Syncrofy for EDI by providing critical business insights across the supply chain for companies worldwide.
To explore how Syncrofy for Supply Chain can help your business' supply chain today, or to sign up for a complimentary demo, click here.
About CoEnterprise
CoEnterprise is a transformative, problem-solving enterprise software and services company. Founded in 2010, we are recognized as a leader in the supply chain and business analytics space, delivering innovative solutions and services that empower people with the resources to analyze their data to make faster, smarter decisions. Fueled by our commitment to people and building lasting relationships, we've helped over 250 customers on over 1,000 projects—encompassing everything from integrations of existing solutions, to comprehensive analytics and dashboarding, server maintenance, and migrations to the cloud. Bottom line, we've done it all for some of the biggest names in the industry. Visit http://www.coenterprise.com for more information.