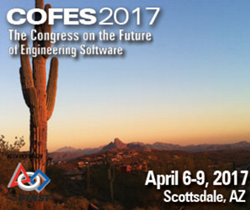 The complexness and inter-connectivity of our world continues to baffle us. That is what we will explore at COFES 2017.
Scottsdale, AZ (PRWEB) April 06, 2017
Cyon Research Corporation today welcomes attendees to the opening of the 18th annual Congress on the Future of Engineering Software (COFES). COFES runs from April 6-9 and is held at the Scottsdale Plaza Resort.
Widely recognized as a think-tank event, COFES gathers vendors, users, press, and analysts to discuss the most important issues facing both customers and providers of design and engineering technologies. The three-day event provides a relaxed and informal atmosphere designed to foster thoughtful conversation. Key to the success of COFES is its briefings and roundtable discussions, where participants explore trends and technologies of engineering software that will drive future innovation.
The theme for COFES 2017 is "Complexity and Transformation." For the past 17 years, COFES has provided an ideal environment for busy engineers and business leaders to lift their heads from the daily grind and consider their work in a broader context. This year COFES will challenge attendees to focus on interventions that can transform existing systems to mitigate the effects of complexity.
"We live in a complex world, but our brains are wired for simplicity," said Brad Holtz, president and CEO of Cyon Research Corporation. "When confronted with logarithmic growth, we are constantly surprised because our innate expectation that the world follows linear projections consistently leads us to the wrong conclusions. Similarly, the complexness and interconnectivity of our world continues to baffle us. That is what we will explore at COFES 2017."
Friday's keynote speaker is Melanie Mitchell, an expert in complex systems. In her talk, "An Introduction to Complexity," Mitchell will take participants on a tour of the sciences of complexity, a broad set of efforts that seek to explain how large-scale complex, organized, and adaptive behavior can emerge from simple interactions among a myriad of individual components. Based on her work at the Santa Fe Institute, Mitchell brings clarity to the workings of complexity across a broad range of biological, technological, and social phenomena.
Saturday's first keynote is "Through the Eyes of Data," where Harry Blount will share his insights on how to create a sustainable information advantage using Big Data while avoiding the most common pitfalls. Blount will lead attendees through the key aspects of a big data process including targeting the optimal data sources, designing a scalable data model, passive and active insight discovery, persistent improvement in platform intelligence, contextual analytics, and synthesized visualization.
The second keynote on Saturday will be "The Business Implications of the New International Political Landscape" delivered by Scott Foster and Mark Anderson. To set the stage for Scott Foster's talk, Mark Anderson will provide insight on the global geo political arena. Scott Foster will then go into depth from the Japanese perspective. Foster will cover a number of issues including Asian surpluses and the loss of American jobs.
This year's COFES will also feature a report from ASSESS: The Analysis, Simulation, and Systems Engineering Software Summit. ASSESS is a working congress, set up to educate, guide and influence software strategies for multidisciplinary simulation and design exploration.
Also today is the eighth annual Design and Sustainability (DaS) Symposium, a unique gathering of leaders within the COFES community who represent diverse industry sectors with strategic interest in software. The goal of the DaS Symposium is to bring sustainability to the forefront of the conversation among software developers and to look for opportunities and issues that may be best served by the industry as a whole, rather than by individual players within the industry. Leaders of the DaS Symposium hope to inspire, raise awareness, build relationships and seek sustainable synergies. The bulk of the DaS Symposium will take place on Thursday, April 6 from 8:30 AM to 3:00 PM PDT, followed by discussions as part of the general COFES program.
To view the full agenda of COFES 2017, please visit: http://cofes.com/Events/COFES-2017/Agenda.aspx
About COFES
Now in its 18th year, COFES is the annual, invitation-only event for the design and engineering software industry. Widely recognized as a think-tank event, COFES gathers design and engineering software leaders (vendors, users, press, and analysts) together to discuss the role engineering technology will play in the future survival and success of business. COFES is renowned for hosting leading keynote visionaries that provide a new perspective to the future of the industry. COFES is a Cyon Research event. cofes.com
About Cyon Research
Cyon Research Corporation is a think-tank providing key information, research, analysis, and consulting to its clients worldwide. COFES (c) is Cyon Research's primary event. cyonresearch.com