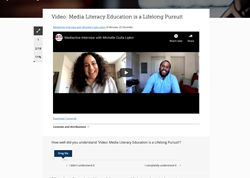 The CogBooks adaptive learning platform was an ideal fit to meet these goals because our technology treats every learner individually
EDINBURGH, United Kingdom (PRWEB) September 21, 2020
CogBooks, a pioneering online learning technology company and leader in adaptive courseware, is expanding the use of its technology at Arizona State University to deliver an innovative, personalized media literacy course that is freely available to anyone.
The new course "Mediactive: How to Participate in our Digital World" was developed by faculty with ASU's Walter Cronkite School of Journalism and Mass Communication News Co/Lab and launched recently for synchronous or asynchronous participation. The free MOOC (massive open online course) is aimed at improving digital media literacy among adults of all ages.
Participants can engage with the learning materials at their own pace - a primary benefit of leveraging the CogBooks adaptive learning platform to deliver the course. "News Co/Lab's goals were to provide a professional, polished and informative course that includes many different types of media, content and assessments in an easy to use interface that could support learners of varying knowledge and experience," said Nic Rebne, CogBooks' Chief Operating Officer. "The CogBooks adaptive learning platform was an ideal fit to meet these goals because our technology treats every learner individually. Those who need or desire more information on a particular topic can get that information immediately, while learners with more advanced knowledge on a topic can progress at a quicker pace."
"The way we consume media has fundamentally changed in the past several decades, and most of us have had to learn as we go without any training. It can feel like we're barely keeping up," said Kristy Roschke, managing director of the News Co/Lab. "The Mediactive course provides accessible and tangible information people can use in their daily media use, which is especially critical as we're facing unprecedented challenges in the U.S. and globally. Our goal is to help people more confidently use media to make important decisions ahead of the November 2020 election and beyond."
To learn more about leveraging CogBooks learning technology for your course or institution, please email hello@cogbooks.com or visit http://www.cogbooks.com.
About CogBooks
CogBooks is a learning technology company that has been partnering with educational institutions, associations and companies to deliver quality, innovative, personalized and adaptive learning curricula since 2005. More than 200,000 learners worldwide have benefited from the use of CogBooks technology or courseware products.
CogBooks' mission is to expand access to education and improve course and learner outcomes at an affordable cost. The company delivers a transformative positive impact on teaching and learning outcomes by applying science-based methods to education, particularly online or hybrid learning modalities. CogBooks has been recognized for its innovative approach by many organizations, including receiving a grant from the Bill & Melinda Gates Foundation to develop adaptive courseware for colleges as part of the Next Generation Courseware Challenge.
About the Walter Cronkite School of Journalism and Mass Communication
The Cronkite School is widely recognized as one of the nation's premier professional journalism programs. Cronkite champions a "teaching hospital" model of journalism education in which students create professional content under the guidance of top professionals. Cronkite News, the student-powered, faculty-led news division of Arizona PBS with news bureaus in Phoenix, Washington, D.C. and Los Angeles, produces a daily newscast for the station. Cronkite emphasizes programs that experiment with new forms of audience engagement, digital interactivity, in-depth information gathering, revenue models and storytelling.