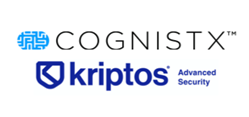 "Our joint efforts will prevent data incursions that can cripple operations and finances and permanently damage a business's reputation," said Cognistx CEO Sanjay Chopra.
PITTSBURGH (PRWEB) November 19, 2020
Cognistx (Cognistx.com), a tech firm that builds bespoke AI solutions, announces its partnership with Kriptos (Kriptos.io), a leading provider of cybersecurity services, in the development of next-level artificial intelligence and advanced technologies to protect businesses from digital incursion.
Cognistx will work with the California-based company to make the Kriptos product offering more robust through specially designed AI solutions. Kriptos is widely known for using machine learning to classify and label a business's internal documents to protect it from data breaches.
Cognistx data scientists will use machine learning and natural language processing to further elevate Kriptos's cybersecurity solutions. The enhanced AI will better assess a client's data quality issues, extolling insights to refine encryption and prevent loss of confidential business information. The efforts will focus on developing solutions that update, adjust and learn automatically as information is updated.
"Our joint efforts will prevent data incursions that can cripple operations and finances and permanently damage a business's reputation," said Cognistx CEO Sanjay Chopra. "The need for enhanced cybersecurity has never been more necessary than now, with companies relying on a remote workforce because of COVID-19."
Since launching in 2018, Kriptos has gained a reputation as the go-to solution for companies looking to shield their information from data threats like ransomware. On average, 80 percent of a company's data is stored on individual computers and on-site servers, putting the company at risk for data breaches. Kriptos's products allow companies to assign security levels to their internal documents; they then track how that information is used and who's using it.
"We're empowering companies to take control over their information. Working with Cognistx ensures we're providing the best technology driving our cybersecurity products and staying ahead of cybercriminals who prey on businesses with weaknesses and gaps in their networks," said Christian Torres CEO and Co-Founder of Kriptos.
###
About Cognistx
Founded in 2015, Cognistx is a Pittsburgh-based applied-AI company founded by Carnegie Mellon University academics. The company builds multistrategy AI systems for clients across the U.S. Cognistx creates AI-powered computer systems that can sense, learn and act. Its founders are pioneers in the fields of automatic question-answering, speech processing, computer vision, natural language processing (NLP) and applied machine learning. Cognistx is able to efficiently combine and customize the best advanced technologies — its AI building blocks — to create applications that extract meaningful insights to produce measurable impact for its clients.
Visit Cognistx.com
Connect on social media: @cognistx on LinkedIn, Twitter and Facebook.
About Kriptos
Founded in 2018, Kriptos uses AI to automatically classify and label millions of documents in an incredibly short period of time. Its technology helps businesses to locate critical information, prevent data leakage, accomplish regulatory compliance and more. Compatible with cybersecurity tools such DLPs (Data Loss Prevention) and CASBs (Cloud Access Security Broker), Kriptos detect and classify sensitive documents, personal data, credit card information by analyzing in local discs, servers, and cloud. The California-based company works with businesses in a wide variety of industries in the U.S. and Latin America.
Visit Kriptos.io