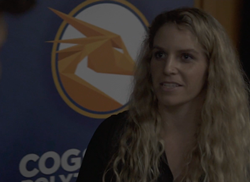 "It was an absolute joy to sit down with all of the passionate students at Cogswell College, I wish I could have stayed longer," says Sr. Gameplay Engineer at Sledgehammer Games Rob Percival.
SAN JOSE, Calif. (PRWEB) November 19, 2019
Founded in 1979 as the first independent video game software developer and distributor, Activision launched a series of multi-million unit selling titles in the early 1980s for the Atari 2600. Such titles included Pitfall, Kaboom! and River Raid. Today, Activision is a leading worldwide developer, publisher, and distributor of interactive entertainment and leisure products for various consoles, handheld platforms, and PC. With such games as Call of Duty, Crash Bandicoot, and Spyro, it is safe to say that Activision has a heavy hand in the current climate of the gaming industry.
Cogswell College students not only had the opportunity to learn about internal operations at Activision, but also what types of needs and career opportunities exist. This allowed students to gain valuable insight into what areas of focus may be most important for them as they embark on their careers post-graduation. Not only were students able to learn about the needs and opportunities at Activision, but they were able to establish relationships and plant seeds with one of the leading companies in the gaming industry. "We've talked to a lot of different schools, and I'll tell you that the students are really engaged. It was like constantly questions or even bouncing off each other and making the questions into new topics, so it was really fun as an employer coming to the campus!" says University Relations Recruiter for Activision, Erin Breslin.
Watch the highlight video here: https://www.youtube.com/watch?v=yGGOSFxCkwk&feature=youtu.be
About Cogswell Polytechnical College
Founded in 1887, Cogswell Polytechnical College (Cogswell) has taken a hands-on, interdisciplinary approach that has been producing industrial-strength results for over 130 years. Cogswell prepares students for success in the creative-technology industries by providing an extraordinary, real-world education inspired by the entrepreneurial spirit of our Silicon Valley location. Cogswell's project-based programs are designed to engage the students' imagination and develop their skills in real-world settings alongside industry professionals. Cogswell is regionally accredited by the WASC Senior College and University Commission (WSCUC) and has an average 79% first-year retention rate. Visit cogswell.edu, Cogswell's Instagram, or call 1-855-COGSWELL to learn more about our award-winning programs. For important regulatory information, please see visit our website at cogswell.edu/disclosures.