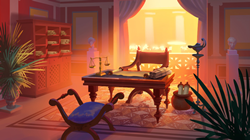 "We were thrilled to hear that Galen had managed to land this exciting position at FableLabs," Skolnick said. "We know he'll be a fantastic asset to the company, and yet another Cogswell success story."
SAN JOSE, Calif. (PRWEB) February 03, 2020
Cogswell Polytechnical College announced today that a recent graduate of the school's Game Design and Development Engineering program, Galen Sipes, has been hired as a Content Manager at FableLabs, a San Francisco-based interactive storytelling platform.
FableLabs, though its smartphone "Tales" app, allows writers to rapidly plot episodic stories that can be quickly made available to a wide audience. Authors can easily add visuals, choices, and persistence to bring their stories to life on viewers' phones. These "freemium" stories can be produced for less than the cost of an eBook, but with the distribution potential of free-to-play mobile games.
Sipes, 22, graduated from Cogswell in 2019 with a Bachelor of Science degree in Game Design Engineering. Although not an official member of the college's Game Writing concentration, he opted to take as many courses in the innovative concentration as he could, hoping to break into the narrative side of the game industry.
However, this is a very difficult feat. Industry experts often say that it is nearly impossible to have one's first job in games relate directly to narrative. Candidates typically have to bring something else to the table, initially applying for positions in more generalized disciplines such as game design, art, engineering, or production, before attempting to transition into the narrative side of development. But with his first job out of college being very much narrative-related, Sipes has done the nigh-impossible.
But he did have some important support from within Cogswell. Sipes was initially sent the job posting by Professor of Practice Evan Skolnick, an active game writer himself with professional ties to key personnel at FableLabs. Upon applying for the position, Sipes found that the Game Writing training he received at Cogswell had prepared him well for the fiercely competitive application process.
About Cogswell Polytechnical College
Founded in 1887, Cogswell Polytechnical College (Cogswell) has taken a hands-on, interdisciplinary approach that has been producing industrial-strength results for over 130 years. Cogswell prepares students for success in the creative-technology industries by providing an extraordinary, real-world education inspired by the entrepreneurial spirit of our Silicon Valley location. Cogswell's project-based programs are designed to engage the students' imagination and develop their skills in real-world settings alongside industry professionals. Cogswell is regionally accredited by the WASC Senior College and University Commission (WSCUC) and has an average 79% first-year retention rate. Visit cogswell.edu, Cogswell's Instagram, or call 1-855-COGSWELL to learn more about our award-winning programs. For important regulatory information, please visit our website at cogswell.edu /disclosures.