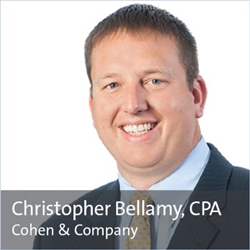 CLEVELAND (PRWEB) April 15, 2019
SunStar Strategic is pleased to announce that Cohen & Company will be a gold sponsor for the 2019 Conference, "Thriving in an Ever-Changing Industry." The conference is ideal for small to medium-sized mutual fund firms who want new, actionable ideas to help them grow assets and is held in Washington D.C. Monday and Tuesday, April 29 and 30, 2019.
The popular M&A panel covering the latest industry deals and valuations will be moderated by Chris Bellamy, CPA, CGMA, co-president of Cohen & Company's Investment Industry Services Division. On the panel are Neil Hennessy, CEO Hennessy Advisors; Bruce Cameron, partner and co-founder, Berkshire Global Advisors; and Brad Hearsh, senior advisor, UBS Investment Bank.
"Thriving in today's competitive environment is harder than ever," said Bellamy. "Many funds are looking for ways to grow their assets under management through acquisition, and others are looking to exit the industry while ensuring their shareholders continue to be well-served. Our panelists will help participants think about the factors that go into valuing a fund and shed light on current M&A conditions."
"This topic is one that always draws a lot of interest," said Kathryn Morrison, CEO and president of SunStar Strategic. "Our clients have traditionally been entrepreneurial firms – asset managers who have their names on their doors. We have been putting this conference on over the years to help them learn from industry experts and each other – and they do."
To address the industry's issues, the conference will showcase two keynote speakers addressing Distribution Essentials and Marketing Strategies to compete with the mega funds, as well as panels of:

Fund managers with assets ranging from $120 million to $250 billion talking about specific techniques they are using to sell their funds, covering an array of products, sales efforts and marketing structures.
Financial journalists sharing what they're looking for and what topics they find to be of interest.
Industry experts offering insights on how to get on platforms and maximize opportunities.
Data and digital providers demonstrating how to maximize their services for advisor outreach through smart data.
For more information, including speakers, agenda and registration, visit https://www.sunstarstrategic.com/conference or call 703.299.8390.
About Cohen & Company
Cohen & Company offers a full range of accounting, tax and consulting services to clients throughout the U.S. and worldwide. The firm serves dynamic, privately held companies and their owners; and the investment industry, including registered and non-registered funds. Specifically, the firm's Investment Industry Services Division provides comprehensive audit, attest, tax and consulting services to a national client base of mutual funds, hedge funds, private equity, exchange traded funds, commodity pools, investment advisors, fund service providers, high-net-worth individuals, trusts and foundations. Cohen & Company was founded in 1977; has more than 650 associates in Illinois, Ohio, Maryland, Michigan, New York, Pennsylvania and Wisconsin; has an international presence in the Cayman Islands and Ireland; and is ranked as one of the top accounting firms in the country. Member PCAOB. Learn more at cohencpa.com.
About SunStar Strategic
SunStar Strategic offers public relations (PR) and marketing programs to help attract, maintain and grow clients. Core services include comprehensive PR, creative strategy and execution. SunStar is headquartered in Washington D.C. with additional offices in Chicago, New York City and Austin.