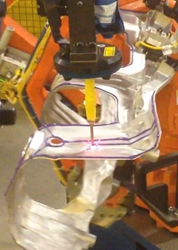 "No matter where the installation, RobotAssist saves customers money by vastly simplifying the robot programming. RobotAssist is another significant software tool to delight our customers," said Dwight Carlson, CEO and Chairman of Coherix.
ANN ARBOR, Mich. (PRWEB) June 17, 2019
RobotAssist is now available and is one of several newly developed software tools such as Z-Tracking, Automatic Repair and Tool Center Point (TCP) developed to enhance the customer experience and provide cost-effective process control and traceability for dispensing systems in new plants, as well as existing plants. Our new software tools are being introduced to new and existing customers who are interested in receiving software upgrades to manage their dispensing process most efficiently, with the highest quality and at the lowest cost.
About Coherix, Inc.
Coherix, Inc. develops and manufactures high-speed, high-definition 3D machine vision solutions, which enable our customers to manage high-volume precision manufacturing processes. Coherix solutions are designed for process control and error-proofing in the automotive, semiconductor, and electronics industries. Coherix is committed to producing the highest performing 3D machine vision products at the lowest Total Cost of Ownership. Coherix customers include global end users, first tier suppliers, global line builders, machine vision systems integrators and global dispensing companies, who demand 100 percent reliability which Coherix products provide. Headquartered in Ann Arbor, Michigan, the company has operations in the United States, China, Germany, Singapore, and Japan.
For more information or a product demo, please visit http://www.coherix.com