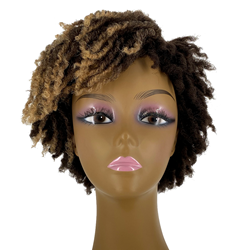 "I know all too well the struggles that Black women experiencing medical hair loss face," said Dianne Austin, CEO and Co-Founder of Coils to Locs
BOSTON (PRWEB) November 18, 2020
Coils to Locs, a supplier of coily, curly synthetic wig styles, today announced the expansion of the company into Houston, Texas, bringing their wig line to Canopy at Memorial Hermann The Woodlands Medical Center. Canopy is a first-of-its-kind survivorship center and a place where cancer patients, survivors and their families can come for free support, resources, and programs. Building on this momentum, the company also introduced seven new wig styles available in medium auburn or golden copper ombre color options. The company, founded by sisters Dianne Austin and Pamela Shaddock after Dianne's personal experience with cancer, was created to address a health care disparity that has traditionally been overlooked - until now.
"We are honored and excited to be able to offer Coils to Locs wigs to our guests here at Canopy. It is so important that we are representative of all of the women who come to us looking for a safe haven. Cancer is hard enough – you should be able to find a wig that is true to who you are and makes you feel beautiful and empowered. It is important to us that every patient feels seen and valued," said Amanda Poole, Canopy Manager.
"I know all too well the struggles that Black women experiencing medical hair loss face," said Dianne Austin, CEO and Co-Founder of Coils to Locs. "When I was losing my hair during my cancer battle, my first thoughts were how ironic it was that I went down this path of embracing my natural hair just to lose every strand of it. I was unable to find wigs in my natural coily, curly style that were both fit for someone with hair loss and available through my insurance. Coils to Locs was founded to empower women everywhere to maintain their unique personal style while experiencing medical hair loss. All women, regardless of hair type, should be able to walk into a cancer center boutique or medical salon and find something that looks like the hair that grows out of their heads. Our expansion into a new market means the demand for these wigs is universal and we're so excited to bring these wigs to new guests at the Canopy at Memorial Hermann The Woodlands."
Based on their own market research, Coils to Locs is the only medical wig company offering coily, curly styles for women to be sold within cancer center boutiques and available through insurance. One of the main differences between a medical wig and traditional wig is that a traditional wig cap uses combs to attach to the wearer's head – something that is not feasible for medical wigs when most wearers do not have any hair. Because medical hair loss often causes a sensitive scalp, patients don't want a comb scratching their head - medical wigs are made of a softer, more comfortable material without any combs. Coils to Locs has a deeply personal understanding of the needs of their target customer and, because of this, have been sought after by numerous Cancer Centers and Boutiques.
"We were so happy to find a line that was so realistic looking," said Patricia A. Wrixon, owner and founder of the Salon at 10 Newbury, Boston. "These high quality wigs are easy to style, durable and are of good quality. In addition to carrying these coily-curly wigs at the salon, donors can purchase the wigs and gift them to Wigs for Wellbeing, our non-profit fund for cancer patients who do not have the means or insurance to purchase these natural textured wig styles."
In addition to expanding to a new market, Coils to Locs also announced several new wig styles including a "faux locs" style and wigs in a variety of lengths from fashion-forward short tailored styles, to trendy long coily, curls. The company is also piloting a hat with hair sewn in that can be worn as an alternative to a full wig.
For more information about each product Coils to Locs offers, and to find your nearest cancer center boutique, visit coilstolocs.com.
About Coils to Locs
Coils to Locs is on a mission to provide access to a variety of ethnically inspired wigs that can be purchased through healthcare reimbursement at cancer center hospitals. Coils to Locs is a supplier of coily, curly synthetic wig styles for Black women (or any woman with textured hair) experiencing hair loss due to a medical diagnosis. The company is addressing a healthcare disparity for cancer patients of color who lack access to high-quality coily, curly textured wigs covered by health insurance through a medical prescription. The business is a family affair; founded by Dianne Austin and her sister and co-founder, Pamela Shaddock, Coils to Locs is also supported by their cousin Cheryl McCloud, VP of Communications & Business Development.