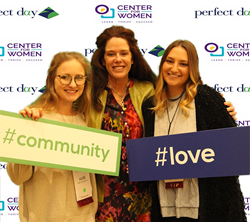 "As a female entrepreneur, I love empowering women to get what they want without giving up what they need." - Cokie Berenyi
CHARLESTON, S.C. (PRWEB) November 19, 2018
Hundreds of Charleston's savvy businesswomen gathered November 15-16, 2018 for C4WNEW - the Center for Women's Annual Conference - to be empowered and grow as business leaders. Included in the speaker line up was Cokie Berenyi, CFP, who shared successful negotiation strategies acquired during her 20-year career in the highly competitive financial advising industry.
While women negotiate many things every day, salary is one of the most important issues. "The ability to negotiate a higher salary is a great starting point in closing the gender income gap," says Berenyi, "As a female entrepreneur, I love empowering women to get what they want without giving up what they need." South Carolina is among the top five states for growth in the number of women business owners, and yet is among the lowest-ranking nationwide in metrics of gender equality, including ranking 45th in income equality by gender, according to the Center for Women.
International best-selling author, Elizabeth Gilbert – one of Time magazine's top 100 most influential women in the world - kicked off C4WNEW on Thursday evening. Then, Friday was a cornucopia of exhibitors and speakers all focused on facilitating meaningful connections that are essential to women's individual and collective success.
Berenyi also teamed up with a professional photographer to offer complementary headshots. "Who doesn't want to freshen up their professional profiles with a nice headshot?" posed Berenyi. This gift to attendees is right in line with Center for Women's mantra, "I don't shine if you don't shine."
About Cokie Berenyi
Author, speaker and founder of Alphavest, Cokie Berenyi, inspires investors and entrepreneurs at-large with her vision, storytelling, and practical tools gained from leading thousands of clients through the financial and work-life balance maze. She is a 40 Under 40 recipient and was named Woman CEO of the Year in 2012. Cokie is the founder of nonprofits Rein & Shine and She CLIMBS and the author of Perfect Day and The Liberated Investor.
For more information about Cokie visit her website at http://www.cokieberenyi.com or connect with Cokie at Instagram/cokieberenyi, Facebook/ PerfectDayConnect, Twitter/CokieBerenyi, and LinkedIn/Helen-cokie-berenyi-51040111