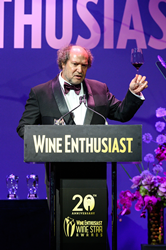 NEW YORK (PRWEB) February 10, 2020
Trapiche of Mendoza, Argentina has announced that Colangelo & Partners, a fine wine, spirits, and food-focused integrated communications agency, will be its agency of record to develop and execute a comprehensive communications strategy targeted to key media, trade, and consumer stakeholders. The partnership will focus on engaging new and current consumers through strategic media relations, trade relations, and content creation.
Having just been named "New World Winery of the Year" by internationally-recognized wine publication Wine Enthusiast at their January 2020 Wine Star Awards, Trapiche is the number one Argentinian winery in exports, and has been ranked for the fourth year running as "Argentina's Most Awarded Winery" by World Ranking Wine & Spirits; it is also the only Argentinian winery recognized by British publication Drinks International's prestigious list of "Top 50 Most Admired Wine Brands."
"It is a tremendous honour to receive the recognition of Wine Enthusiast, as it demonstrates the daily effort, the teamwork, and the constant striving for improvement that has allowed us to achieve a leadership position in the world," says Director of Winemaking Daniel Pi.
The award from Wine Enthusiast marks a key moment in Trapiche's growth and lengthy history, highlighting the contributions the winery has made to both the Argentine and global wine industries for the last 135 years. Colangelo & Partners will work on a range of traditional and content-driven media activities for Trapiche, supporting the winery's impressive range of products.
"We are excited to have partnered with Trapiche—'New World Winery of the Year' by Wine Enthusiast—to carry out a strategic communications program that will bring their brand story and wines to an even wider consumer audience," comments Colangelo & Partners executive vice president Felipe Gonzalez-Gordon. "It is a privilege to work with such an esteemed, historic producer."
About Trapiche https://www.trapichewines-usa.com/
The Trapiche story began in 1883 in a small vineyard called 'El Trapiche' in Mendoza, the heart of Argentina's main winemaking region. There, the grapes for the first fine wines were grown. More than 135 years later, Trapiche has proudly earned its place as a pioneer in innovative grape growing and winemaking practices in Argentina. True to its origins, Trapiche today is on a continuous quest for the latest best practices and product innovations, such as being the first to produce wine on Argentina's east coast by the Atlantic Ocean. Exploration and discovery lie at the heart of Trapiche's winery, which thrives on innovation as a guiding principle in the search for new horizons. Concentrating its efforts in groundbreaking research, Trapiche is driven by a strong will to continue uncovering varietal expressions loved and admired by the entire world. Following a path forged by hard work and nourished by the accolades that encourage excellence, Bodega Trapiche continues to stand out—leading the way into a whole new world for wine.
To see the full list of Wine Enthusiast's Wine Star winners, please click here:
https://www.winemag.com/gallery/wsa2019winners/
About Colangelo & Partners http://www.colangelopr.com
Colangelo & Partners specializes in premium wine, spirits, and food brands, maintaining long-established relationships with the key press that drive these business categories and help determine the industry leaders. Agency principals have years of experience in retail and distribution as well as communications, a rare combination that gives Colangelo & Partners invaluable insights into consumer purchasing behavior. The agency focuses on 'closing the loop' between creative communications programs, distribution, promotion, publicity, and the consumer in order to maximize the efficiency of its communications programs and deliver measurable results. Founded in 2006, Colangelo & Partners was honored as one of the year's top integrated communications firms at the 2013 Agency Elite Awards and for one of the best digital marketing campaigns at the 2014 Digital PR Awards.