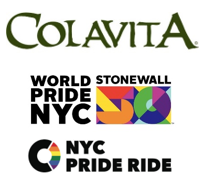 Colavita returns as an official sponsor of World Pride 2019 and as the presenting sponsor of the seventh annual NYC Pride Ride for the second year. Their involvement includes promotional activities and support throughout the day as well as participation in the ride.
New York, NY (PRWEB) May 23, 2019
Leading family-owned Italian extra virgin olive oil company and long-time sponsor of professional and amateur USA cycling Colavita (http://www.colavita.com) returns to celebrate LGBTQIA+ Pride as an official sponsor of World Pride 2019 and as the presenting sponsor of the seventh annual NYC Pride Ride.
Colavita and LGBT non-profit organization OutCycling (http://www.outcycling.org) have once again joined forces to help organize and promote the ride, this year taking place on June 2nd. In 2019, NYC Pride Ride is celebrating the 50th Anniversary of Stonewall and kicking off World Pride in New York City, a month-long celebration of Pride. Colavita's involvement includes promotional activities and support throughout the day as well as participation in the ride.
"Colavita is honored to continue our partnership with World Pride and NYC Pride Ride for our second year," says CEO of Colavita USA Giovanni Colavita. "We stand firmly united with our friends at Outcycling and Fearless Flyers who organize this NYC Pride Ride event to celebrate being true to their hearts while growing awareness, acceptance, respect, and love for the LGBT community."
Colavita has sponsored professional cycling since 2003, the year in which Team Colavita (http://www.teamcolavita.com) was formed, and in 2018 they partnered with the leading Italian cookware and coffee maker company Bialetti (http://www.bialetti.com) to form Team Colavita/Bialetti, a women's professional cycling team. Colavita has helped propel numerous athletes on to become national champions, world champions, and Olympic competitors. In addition, Colavita supports nine amateur regional cycling teams based out of major cities around the US.
This year, Outcycling's youth program Fearless Flyers will be joined by I Challenge Myself (http://www.ichallengemyself.org), a school-based fitness program across the NYC public high schools that introduces students to endurance sports that help them develop socially, academically, and physically. Also brand-new to the 2019 edition of NYC Pride Ride, riders may enter to win a custom Van Dessel Bike donated by Colavita. Another novelty is the addition of an 80-mile biking route, rounding out the other ride options of 30, 60, and 100 miles. The ride starts and ends on the Hudson Greenway at 145th street.
"NYC Pride Ride is including new activities and seeing great growth for its seventh annual edition, and we are really happy to have Colavita's renewed and continued support," says Executive Director of OutCycling Graham Weinstein. "In addition to a fourth ride option to help serve an increasingly diverse mix of riders at all levels, we are hosting the organization "I Challenge Myself" with fifty NYC Public High School Youth to ride and celebrate with us."
Like last year, Colavita's professional bike technician will be available for tune-ups and demos; cyclists and early-morning volunteers and supporters will be offered an energizing shot of espresso made with Bialetti coffee makers; and Colavita will partake in the post-ride Finish Festival cookout with a dish made from healthy Colavita ingredients.
For more information about Colavita, its support of the values that drive World Pride and NYC Pride Ride, and its sponsorship of both, please contact Maria Calvert (mcalvert@colangelopr.com) or Diana Zahuranec (dzahuranec@colangelopr.com) at Colangelo & Partners.
About Colavita: (http://www.colavita.com) A long time ago in the quaint hilltop village of Sant'Elia a Pianisi, located in the Molise region of Italy, two small family businesses were born. They were both Colavita families. Today, the Colavita Olive Oil and Colavita Pasta companies are still family-owned and operating in the same town of their ancestors. They have since joined with another family-owned company, Colavita USA, and together they have shared the fruits of their respective crafts with American consumers for over twenty years.
About OutCycling: (http://www.outcycling.org) OutCycling is a nonprofit 501(c)3 cycling organization whose mission is to provide bicycling activities for the enjoyment of its members and promote bicycling as a means of recreation, companionship, fitness, and transportation. They believe in the importance of the physical and emotional health that cycling provides and strive to share that philosophy with its members.