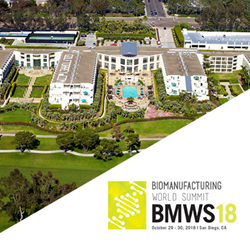 We are committed to helping biopharmaceutical companies explore cost-reduction strategies, understand changing industry standards, and initiate risk management processes to ensure compliance, quality and product integrity." said Hutchinson
HOUSTON (PRWEB) October 15, 2018
Modality Solutions, a privately-held company that delivers integrated cold chain operations solutions for highly regulated industries, is a silver sponsor and exhibitor at the Executive Platforms' Biomanufacturing World Summit (BMWS18), October 29-30, 2018 in San Diego, California.
The Biomanufacturing World Summit brings together the "who's who" of pharmaceutical executives, cutting-edge technology providers and media partners for North America's premier biologics event, including: SVPs & VPs of Manufacturing; Quality & Supply Chain; Operations Executives; Directors of Manufacturing; Quality & Supply Chain; Technology Executives; and Plant/Site Managers.
Modality Solutions delivers integrated cold chain operations solutions for highly regulated life science and food industries. President Gary Hutchinson and Principal Daniel Littlefield will attend the conference and participate in one-to-one meetings with other leaders in biopharmaceutical manufacturing and cold chain management.
BMWS18 attendees will have the opportunity to learn more about:

Industry Challenges and Opportunities
Quality as a Culture, QbD, ICH Guidelines
Capacity Management
Supply Chain Management
New Processes and Technologies
Working with External Partner
"As the global biopharmaceutical industry continues to grow and evolve, companies are constantly facing pressures to improve the quality, efficacy, cost, and compliance for their life-saving products," said President Gary Hutchinson. "We are committed to helping biopharmaceutical companies explore cost-reduction strategies, understand changing industry standards, and initiate risk management processes to ensure compliance, quality and product integrity."
Register at the BMWS18 website: https://biomanworld.com/
To learn more about Modality Solutions, visit https://www.modality-solutions.com.
About Modality Solutions, LLC
Founded in 2011 Modality Solutions integrates cold chain operations systems ensuring regulatory compliance, product quality, and patient safety by combining best practices of process validation, systems qualification, and risk assessment. Modality Solutions delivers proper documentation for qualification, validation and training aligned with the necessary procedural controls, visual controls, and monitoring. Its proprietary Advantage Transport Simulation Laboratory™ enables the study of concurrent transport stresses—temperature, humidity, pressure, shock, and vibration on drug products during the development process. Key areas of service are: ensuring regulatory compliance; delivering cold chain thermal packaging design / qualification and controlled-environment logistics solutions; conducting transport simulation testing; providing staffing augmentation; decreasing development cycle times for a faster route-to-market; developing transport validation strategies to support global regulatory applications; and clinical trial operations. For more information, visit https://www.modality-solutions.com.