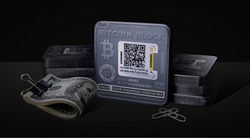 We are excited about this milestone of $10 million in cryptocurrency being stored on Ballet wallets by loyal customers worldwide
LAS VEGAS (PRWEB) April 09, 2020
Ballet, the cryptocurrency cold wallet company started by Bobby Lee—the founder of China's first cryptocurrency exchange, today launched a new collectible containing a full, freshly mined bitcoin block.
Ballet's "Bitcoin Block" is a non-electronic hardware wallet made of pure titanium. It contains a full bitcoin block mined by Ballet's mining pool partners.
"Ballet's new Bitcoin Block is the only physical cryptocurrency collectible on the market with freshly mined coins," Lee said. "We're introducing our new product as a limited opportunity for collectors to own a full 12.5 BTC block in physical form ahead of the block halving. This is truly limited, as after May 2020, this can never be made anymore."
Ballet will sell a restricted number of the Bitcoin Blocks, as they can only be mined up until the block halving. The limited issue of the Bitcoin Block contains the full current bitcoin mining reward of 12.5 uncirculated bitcoins and a varying amount of transaction fees. Orders will be accepted until April 30: https://store.balletcrypto.com/collections/ballet/products/bitcoin-block/?utm_source=News&utm_campaign=Bitcoin%20Block
"We're celebrating bitcoin's third block halving with a bold titanium collectible," Lee said. "The Bitcoin Block will be the only physical cryptocurrency collectible on the market that will hold a full bitcoin block, fresh from the mining pool."
The company will also sell a special commemorative edition of its gold-plated REAL Bitcoin wallet, and will give away 0.01 BTC on the block reward halving day to all customers who buy the wallet: https://store.balletcrypto.com/products/24k-gold-plated-real-bitcoin-halving-special-edition?utm_source=News&utm_campaign=Bitcoin%20Block
Lee mentioned that Ballet has already found success as the continuation to BTCC Mint, BTCC's physical bitcoin brand, which over its three years of business sold physical bitcoins worth more than $60 million dollars in today's prices.
Ballet today announced that more than $10 million worth of cryptocurrency is currently stored in the company's products.
"We are excited about this milestone of $10 million in cryptocurrency being stored on Ballet wallets by loyal customers worldwide," Lee said. It's great to see more and more people starting to trust Ballet as an easy, safe, and reliable cryptocurrency wallet. It's the cryptocurrency wallet for the rest of us."
The company raised more than $3 million in seed round financing in 2019. It was founded in September 2019.
About Ballet:
Ballet provides simple and elegant cryptocurrency solutions backed up by robust and cutting-edge technology. The firm was founded by a group of experienced cryptocurrency experts from Asia, Europe, and the U.S.A, including Bobby Lee, the founder of China's first cryptocurrency exchange. The company aims to boost cryptocurrency adoption to billions of users through intuitive, cutting-edge hardware wallet solutions. Ballet's innovative physical wallets are a one-stop solution for managing multiple cryptocurrencies on the go, in the form of a physical asset. Ballet wallets are made through an innovative and secure multinational assembly process, in which private key components are generated in a two-step process on two different continents, ensuring safety and peace of mind for all its customers.
About Bobby Lee:
Bobby Lee is an entrepreneur and bitcoin proponent. Lee founded BTCC, China's first cryptocurrency exchange, and sold the company in 2018. Prior to founding BTCC, Lee was vice president at Walmart, and one of the early software engineers at Yahoo. Lee is regularly invited to speak on cryptocurrency, liberty, and economics, and is a board member of the Bitcoin Foundation. Lee has a bachelor's and master's degree in computer science from Stanford University.